What Went Wrong with Sting's WWE Run in 2015?
Published 12/16/2020, 8:00 AM EST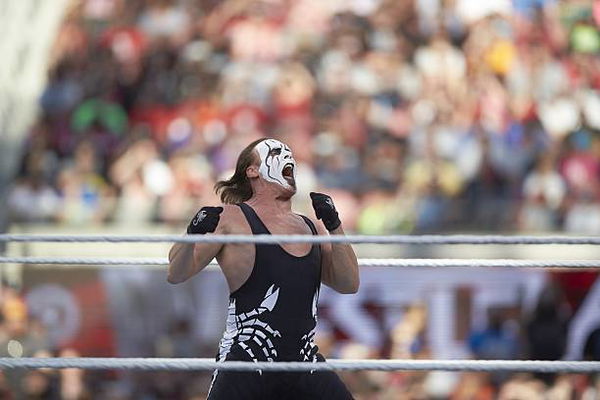 ---
---
WCW created some fine pro wrestlers that WWE used to their advantage. From Booker T to Eddie Guerrero, Vince McMahon made these stars look like superstars. However, there was one noticeable absentee from the wrestlers to transitioned from WCW to WWE. That man was Sting.
ADVERTISEMENT
Article continues below this ad
Sting made his WWE debut in 2014
Sting wrestled all across the world before finally debuting in WWE in 2014. The legend made a shocking appearance during the Team Cena vs Team Authority match at Survivor Series. He attacked Triple H and helped Team Cena beat the Authority, putting Triple H and Stephanie McMahon out of power.
ADVERTISEMENT
Article continues below this ad
This led to an instant rivalry between Triple H and Sting. Once Hunter returned, he challenged Sting to a confrontation so they could air their grievances against each other. This led to Sting and Triple H brawling and a WrestleMania match being confirmed.
Sting vs Triple H: WrestleMania 31
Sting's WrestleMania debut was eagerly awaited but did not go as planned. Triple H and he wrestled a fine match littered with brilliant spots and fantastic close calls. Fans were treated to a surprise appearance from DX and the NWO. Each faction interfered on behalf of their WWE/WCW allegiances.
Triple H's sledgehammer prevailed over Sting's baseball bat, and the latter lost his first official match in WWE. It was a poor start to his WWE run, and fans blamed Triple H's ego trip for the unfortunate situation. Looking back, Triple H has never lost to an ex-WCW superstar. He has beaten Chris Jericho, Booker T, Kevin Nash, and now Sting. It served as an effective display of dominance by the Cerebral Assassin.
This ruined his big moment, and it felt as though the WWE missed a trick at WrestleMania 31.
Challenging for the WWE Championship
Sting took some time off, but fans eagerly awaited his return. He returned after SummerSlam by ruining Seth Rollins' bronze statue. Seth had just beaten John Cena at SummerSlam for the United States Championship and a statue of him was built in commemoration. By destroying the statue, Sting received a WWE title shot at Night of Champions.
ADVERTISEMENT
Article continues below this ad
Rollins and Stinger wrestled a decent match at a slow pace, and the legend's ring rust was visible. While taking a buckle bomb, Sting injured his lower back, which impaired his ability to wrestle at a faster pace. This led to the finish changing, and Rollins rolled up Sting for the surprise win. He went 0-2 inside WWE's ring.
Hall of Fame induction
That would be that last match he would wrestle under WWE. In 2016, WWE announced that Sting would head the Hall of Fame class of 2016. His legendary opponent Ric Flair inducted him into the Hall of Fame. The last WWE appearance Sting made was at Ric Flair's birthday celebration in 2019.
ADVERTISEMENT
Article continues below this ad
Now signed with AEW, we hope his career does not follow the same sad trajectory it followed in WWE. We hope he gets the opportunity and respect he deserves, and that Cody won't bury him as Triple H did in 2015.