Why Is WWE Superstar Triple H Called The King of Kings? The Mystery Behind His Nicknames
Published 12/24/2020, 8:18 AM EST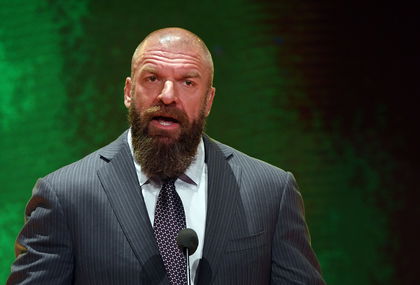 ---
---
Triple H has created a legacy over the years. A multi-time World Champion and a prominent executive, he is not going to stop anytime soon. However, wrestling fans often wonder – what is the reason behind his name? Or other nicknames like the Game or Cerebral Assassin?
ADVERTISEMENT
Article continues below this ad
We have searched and learned the mystery behind his names. Paul Levesque was not always the 'Game' that he is today, neither did he start his career in WWE.
After training in Killer Kowalski's wrestling school, Levesque went on to WCW as a villain named 'Terror Risin.' His ring name was soon modified to 'Terra Ryzing,' which he used until mid-1994. Then he got the new name of Jean-Paul Lévesque, a French aristocrat.
ADVERTISEMENT
Article continues below this ad
However, he was in talks with Vince McMahon and left WCW for WWF in 1995. With a new company, Levesque's career was restarted, and he needed a new name.
"Vince liked what I was doing and the character, but he wanted me to be American," he explained in an episode of the Talk is Jericho. He even met a group of writers to discuss his new name.
"They had asked me to think up a bunch of names to give some input on it and I had a whole bunch of names in mind…and J.J. (Dillon) called me in the room and said, 'We've got your name. You're going to be Reginald DuPont Helmsley' and I was like, 'Holy cow! Here I am in the bad name category again!'"
Triple H explains how he came up with his name
"I was trying to come up with something that you could make initials out of," he explained. Also, it would have been easier for the young fans to remember a small name.
"The next thing I heard, J.J. called me up and said, 'Hey, we went with a little bit of your suggestions and you're going to be Hunter Hearst Helmsley. Three H's.' and I was like, 'Okay…I can work with that a little bit.'
ADVERTISEMENT
Article continues below this ad
However, it was his old friend Shawn Michaels that started using the Triple H name from the very first day!
"So we went with that and then Shawn (Michaels) started calling me 'Triple H' from day one," Triple H concluded.
After a while in the Attitude Era, Triple H completely discarded the aristocrat gimmick and got in with the anti-authority Degeneration-X. In the wake of the Ruthless Aggression Era, Triple H dubbed himself as "The Game, "implying that he had become "the game."
ADVERTISEMENT
Article continues below this ad
Eminent WWE commentator, Jim Ross, called him the "Cerebral Assasin" due to the mind games he used against his opponents. His other name, "King of Kings," came as a part of his theme song by Motorhead.