"Would've Been Short"- CM Punk Claims He Would Have Easily Beaten Stone Cold Steve Austin Inside WWE Ring
Published 02/13/2021, 6:30 AM EST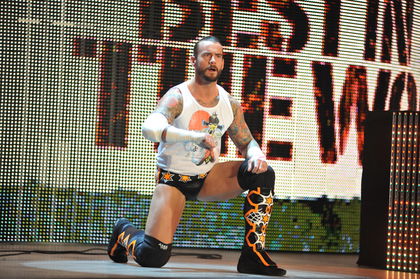 ---
---
Former WWE Champion CM Punk is one of the toughest wrestlers of all time. Along with toughness, Punk also has loads of pride stuffed into his six-foot frame.
ADVERTISEMENT
Article continues below this ad
In 2012, Punk shot an interview with Stone Cold Steve Austin and Jim Ross, where the former WWE Champion was asked if he'd survive in the Attitude Era.
CM Punk takes a dig at Stone Cold Steve Austin
ADVERTISEMENT
Article continues below this ad
On Twitter, CM Punk responded to a fan who asked him about a potential dream match that almost went down in 2012. Punk and Stone Cold Steve Austin were being interviewed by Jim Ross for the WWE '13 video game. However, tension boiled over when their big egos almost led them to exchange blows.
Punk reminded Austin that he would not thrive on the current WWE roster. With names like Randy Orton, John Cena, Sheamus and CM Punk, Steve Austin would simply exist.
Jim Ross tried to insinuate a dream match situation between the two charismatic superstars, which had both men on their toes.
Nothing meant more to Austin than winning the WWE Championship, but he had another thing in mind. While the WWE Championship is lucrative enough, Austin believed he was the wrestler who could get the best out of Punk. If Austin were to face Punk, it'd be another win in the latter's column, stated the WWE Champion.
Responding to the fans' tweet, Punk simply replied, 'Would've been short. GTS, 1 2 3'. If this happens when Punk and Stone Cold face off, fans would probably riot.
The intense segment between the two was enough for fans to clamour for the dream match between Austin and Punk.
Would Steve Austin thrive in WWE's current era?
ADVERTISEMENT
Article continues below this ad
The Attitude Era gave rise to some of the toughest WWE Superstars of all time. From charismatic champions like The Rock, evil corporate champions like Triple H, morbid and dark wrestlers like The Undertaker, and of course, hell-raisers like Stone Cold Steve Austin.
The Attitude Era was a challenging time, but can the biggest star of that era thrive in the current era? With wrestlers' movesets and abilities in the ring developing tenfold, it would've been hard for Austin to keep up.
It would be satisfying to watch Austin counter a backflip into a stunner, or pretty much any flippy move into a stunner. In 1996, Austin brought a style of wrestling to mainstream eyes and hasn't looked back since. Brawling might be ugly, but it's definitely effective. If pulling off 450 splashes and suicide dives looks cool, brawling when done perfectly makes a decent match even better.
ADVERTISEMENT
Article continues below this ad