WWE Announces the Opponent for Big E's Intercontinental Championship
Published 01/01/2021, 10:54 PM EST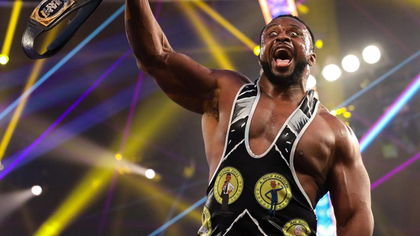 ---
---
After their win against Sami Zayn and Baron Corbin, Intercontinental Champion Big E will defend his title against his tag partner, Apollo Crews. The match was confirmed after Big E announced an open challenge for his title, and Crews, being the person closest to him, accepted the challenge in a jiffy.
ADVERTISEMENT
Article continues below this ad
Apollo Crews and Big E win on WWE SmackDown
ADVERTISEMENT
Article continues below this ad
Big E and Baron Corbin faced off in the opening match of the night with former Intercontinental Champion Sami Zayn sitting on commentary. The IC Champion looked to put Corbin away quickly, nailing him with the Big Ending, but Sami Zayn stopped the referee's count.
Sami, Corbin, and his new henchmen Blake and Cutter beat up Big E in the ring, but Apollo Crews came to his rescue. After fighting the heels off, a tag team match was made official.
Crews would team up with Big E to take on the heel duo of Sami Zayn and Baron Corbin. The tag team match ended up being much more exciting than the singles match between Big E and Corbin.
Crews showcased his excellent athleticism and power, busting out a cool dropkick and a devastating powerslam. Apollo looked really confident in this match and often outshone Big E.
Big E ran wild off the tag but got caught by a sudden Deep Six. Things really started going south for the heels at this point.
Sami Zayn argued with Corbin's Knights of the Lone Wolf while Corbin was engaged with the two babyfaces in the ring. Once Sami returned to the ring, he tried to hit the Helluva Kick on Crews, but he sidestepped it and Zayn almost struck Corbin with it. This did not please Corbin who left the ThunderDome with Blake and Cutter. An enziguri and powerbomb later, Crews pinned Zayn.
Crews accepts open challenge for Intercontinental Championship
ADVERTISEMENT
Article continues below this ad
After their win, Crews and Big E were interviewed by Kayla Braxton. Overjoyed from his second win in two days, the champion optimistically declared an open challenge for next week's episode of WWE SmackDown. In a matter of seconds, Crews accepted the challenge and Big E hesitantly agreed.
The look on the champion's face when Crews made the challenge was of pure confusion. He probably expected his opponent to be revealed on next week's episode. However, Crews vs Big E will be an exciting match to watch and one that will set SmackDown on fire. Can Crews pull off an upset, or will the champion march forward in 2021?
ADVERTISEMENT
Article continues below this ad