WWE Announces Unique Stipulation for Bray Wyatt vs Randy Orton at WWE TLC 2020
Published 12/17/2020, 12:53 PM EST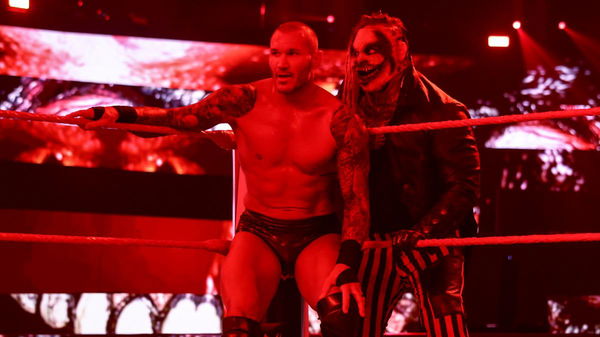 ---
---
WWE's fascination with strange stipulations continues as Randy Orton and Bray Wyatt will face off in the first ever Firefly Inferno match. The world holds their breath to see what crazy stuff WWE throws at them once again. This match will be a cinematic match, similar to Wyatt's Firefly Funhouse match against John Cena.
ADVERTISEMENT
Article continues below this ad
The Fiend sets his eyes on Randy Orton
ADVERTISEMENT
Article continues below this ad
Orton and Wyatt are set to resume their feud at WWE TLC 2020. The Firefly Inferno stipulation promises some cinematic brilliance. We sincerely hope that this match would be more like the Firefly Funhouse match and not like the stupid Swamp fight against Braun Strowman.
The Viper has had Wyatt's number in the past, but has never faced an opponent like The Fiend. Bray Wyatt's alter ego has proven to be the most bulletproof character in WWE. However, Orton discovered the Fiend's weakness.
Alexa Bliss will definitely play a role in the match at TLC. The Fiend's new demonic friend has witnessed a career revival in 2020. Seeing Bliss eat an RKO would be a moment for the ages. But with the match in Wyatt's wheelhouse, he will be the favorite heading into TLC.
Wyatt and Orton have a strange history
Since winning the WWE Title at Hell in a Cell, Randy Orton had a target on his back. While Drew McIntyre beat him for the title, The Fiend did not take his eyes off the Viper. Wyatt and Orton have a history that dates back to 2016.
ADVERTISEMENT
Article continues below this ad
After the 2016 Brand Split, Wyatt and Orton were drafted to SmackDown. Orton and Wyatt feuded for about a month before the Viper joined the Wyatt Family. The newly formed Wyatt Family dominated SmackDown, even winning the brand's tag team championships.
Orton won the Royal Rumble in 2017, while Wyatt won the WWE Championship at Elimination Chamber. The two were set to collide at WrestleMania 33, but Orton refused to face his leader. However, Orton burned down the Wyatt compound, which led to the match being set at WrestleMania.
ADVERTISEMENT
Article continues below this ad
Orton dominated Wyatt and WrestleMania, beating him with ease. The two would face off in a rematch at Payback, which had a really weird stipulation attached to it. Payback's House of Horrors match remains one of the worst matches in WWE history.