WWE Fans go Crazy After Alexa Bliss-Bray Wyatt Romance Teased on SmackDown
Published 08/08/2020, 12:51 AM EDT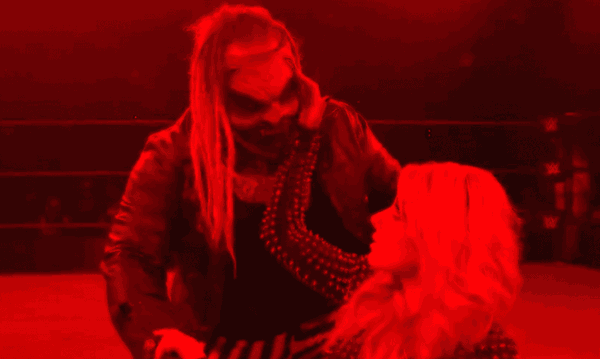 ---
---
Yet again, Bray Wyatt and Alexa Bliss were the biggest talking point after the end of Friday Night SmackDown. Considering the reactions on social media, it seems like WWE has really struck gold with this pairing.
ADVERTISEMENT
Article continues below this ad
The fans are really digging the entire 'beauty and the beast' storyline between the two Superstars. In addition, there are a plethora of possibilities that the WWE can explore with this combination.
While it's been a while since we've seen layered storylines, this one offers the opportunity. What exactly does Bliss mean to Wyatt? Has she been successful in activating a soft spot in his monstrous heart?
ADVERTISEMENT
Article continues below this ad
That could even lead us further into the Fiend's universe. Bliss can tap into his human side and we may even get the story of how a normal man became The Fiend. Better still, we might get an insight into the character of Sister Abigail.
Maybe Wyatt starts projecting his probably deceased sister who gave him the trauma that led him to where he is, onto Alexa Bliss. That might lead to one of the best stories ever told by the WWE creative.
Read more – Huge Match Confirmed for SummerSlam on WWE SmackDown
At the end of the day, Bliss might not even play a role in the entire rivalry. WWE has a habit of dropping storylines mid-way and this might get the same treatment.
Regardless of that, it has certainly piqued interest. Twitter was rife with speculations about the future and really like WWE's handling of the story thus far.
Strangely enough, it seems like many WWE fans almost forgot that Braun Strowman is also a part of the storyline. That's not a good sign considering that Strowman's reign hasn't exactly been very entertaining up till now.
Twitter wants to know the future of Bray Wyatt and Alexa Bliss
Twitter reactions were on the spectrum of confused to intrigued. Most of them had positive feelings about the storyline.
I finally love the Fiend
Love the storyline between Alexa and the Fiend

— ALEXSHA #AllLivesMatter (@FanieFo02141835) August 8, 2020
🎤😲
Tale as old as time
True as it can be
Barely even friends
Then somebody bends
Unexpectedly

Just a little change
Small to say the least
Both a little scared
Neither one prepared

Beauty and the… Fiend

— Matthew Deall (@MDeall88) August 8, 2020
The fiend and retribution together that would be something #SDLive

— disciple (@luisjustice44) August 8, 2020
Braun Strowman making a scary voice and calling himself the monster is the best they could come up with? So now he's a heel that doesn't care about anything…like The Fiend? That scene was lame af. He should've saved Alexa. Now he has to have a full repackage. #Summerscam

— Mr. Nobody (@UMightDieTryn) August 8, 2020
Wow. Braun's really gonna forget about Team Little Big like that? I hope The Fiend and Sister Abigail destroy ThE mOnStEr at SummerSlam. #SmackDown

— Lucha Lucy (@LuchaLucy) August 8, 2020
ADVERTISEMENT
Article continues below this ad
It was weird. The Fiend reacted like he didn't like that Alexa stopped him. Was Alexa seduced by The Fiend? Is she under The Fiend's control. Was Alexa's strategy to get out of this literally to SEDUCE The Fiend?

I have to believe that she plays a role at SummerSlam. #SmackDown

— Quarantine Tired (@VeryTired111) August 8, 2020
ADVERTISEMENT
Article continues below this ad
SOURCE: Alexa Bliss Twitter