WWE Hall of Famer Booker T Reveals Why He Never Joined Hulk Hogan Led NWO Faction
Published 12/06/2020, 1:03 AM EST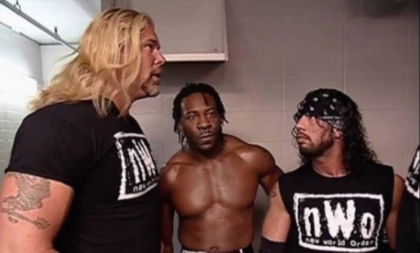 ---
---
When you talk about WCW, it is impossible to not mention the legendary NWO. The Hollywood Hogan led faction revolutionized professional wrestling and almost put WWE and Vince McMahon out of business.
ADVERTISEMENT
Article continues below this ad
However, the massive scale of the NWO would also become the reason for its demise. At one point, fans were unable to distinguish where NWO ended and where WCW started. Almost every Superstar on the WCW roster was a member of the villainous faction.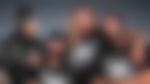 ADVERTISEMENT
Article continues below this ad
One man who remained untouched by the NWO but still became a massive draw was WWE Hall of Famer Booker T. Booker was arguably the biggest solo act in WCW history.
With his unique style and flashy in-ring technique, Booker's persona resonated with the hardcore professional wrestling fans of the late 90s. However, one always wondered why Booker never joined the NWO despite being the biggest star in the company.
On a recent edition of his Reality of Wrestling podcast, the Hall of Famer opened up on this huge question.
Booker T wanted a distinct identity in WWE and WCW
As per the five time WCW World Heavyweight Champion, the NWO had the tendency to consume the individual identities of its constituents. Despite the group pushing WCW stocks to unimaginable heights, only a few of its members went on to carve their own individual niche.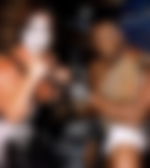 "It was something that I just didn't wanna be a part of. I didn't wanna be in the mix with a bunch of different guys. Coming out to that one music… Being the part of a group like that, you gotta change just the way you work and the way you act and what not. And it was not just something that I wanted to do."
Booker T further explained how he was always a one-man show. Despite achieving tag team success as a part of Harlem Heat, Booker always differentiated himself through his impeccable character work.
"Those guys were really hot. And that might have been something that could've pulled me in and that was something that I wasn't about either. I was always a loner, I always was about making money. I was always about coming to work and getting my work done to the best of my ability every time. It might have been a huge distraction with all those guys."
NWO approached Booker T
Booker revealed that NWO actually wanted him to join their ranks. It's an open secret that they had huge sway backstage and could easily recruit people they wanted. However, they respected Booker's choice to do his own thing.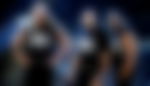 I could see myself getting lost in the shuffle. And so when I was approached, they were like, 'Hey bro, we need some color, we need some color in the NWO.' And I was like, 'Well, I appreciate it, but nah, man, I'm good man.'"
Booker also believes that had he been a part of NWO, his career trajectory would have been really different. He wouldn't have won the numerous accolades that he eventually did.
ADVERTISEMENT
Article continues below this ad
It's hard to disagree with Booker's assessment. Despite NWO's unmatched influence in the professional wrestling business, only a few of its members prospered after its death.
Needless to say, Booker T's decision to not join the NWO worked in his favor.
ADVERTISEMENT
Article continues below this ad