WWE Hall of Famer Bret Hart Recalls an Insane Brawl Involving The British Bulldog
Published 12/17/2020, 7:30 AM EST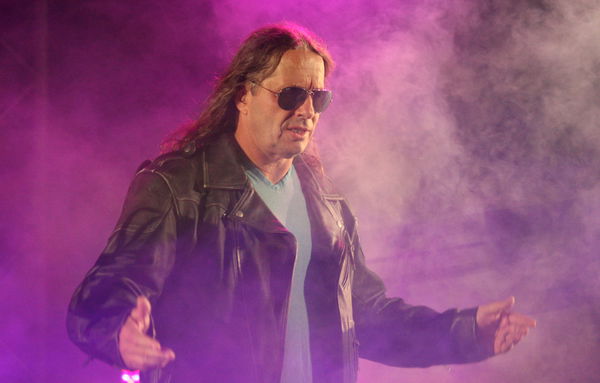 ---
---
The superstars of the 80s have some crazy stories to offer. The 80s stars of WWF have experienced some crazy experiences on the road. In an episode of Confessions of The Hitman, Bret Hart narrated an insane story of how he and the British Bulldog knocked out six guys on the road.
ADVERTISEMENT
Article continues below this ad
Bret Hart and the British Bulldog knock out half a dozen dudes
"We were driving but before we got to Memorial Drive, at the light before that, six guys in a car, they just about hit us broadside and they swerved. They ran through a red light and came right at us, and we screeched on the brakes." The driver of the car looked at Bulldog and said, "where did you learn to f**king drive?" 
ADVERTISEMENT
Article continues below this ad
In a flash, one of the apparently drunk dudes jumped out of the car and headed straight for them. "Davey opened up his car door, and he jumped out of the car. And now Davey's going toe to toe with the guy who had run around from the other side, so I slid over on my side of the car." The drunk men had no clue what was coming for them.
"I just remember when I went to go help Davey, he had one guy on his back. He had the other guy in a bodyslam position. And I'm thinking, 'that's pretty impressive to me, to body slam somebody right on the pavement on Edmonton Trail." (H/T Inside the Ropes)
You would half expect Bret Hart to break out a piledriver or a Sharpshooter, but he bashed one man's heads onto the hood of the car.
ADVERTISEMENT
Article continues below this ad
Wrestling veteran Lou Thesz watched from inside
While the brawl, or should I say squash match, was unfolding on the road, 80-year-old Lou Thesz remained seated in the backseat. "And I remember Lou Thesz. He was watching the whole thing from the window with his glasses on. He was so [apologetic]. He kept apologizing to me for not getting out and helping us. I was like, 'Lou, you're 80 years old. No one expected you to get out."
ADVERTISEMENT
Article continues below this ad
This story will go down as one of the craziest stories shared by a WWE Hall of Famer. With all being said, I would definitely buy a ticket to watch the two iconic wrestlers from the SummerSlam 1992 main event beat up six dudes.