WWE Hall of Famer Kurt Angle Teams Up With Ronda Rousey For Exciting New Project
Published 05/21/2021, 8:00 AM EDT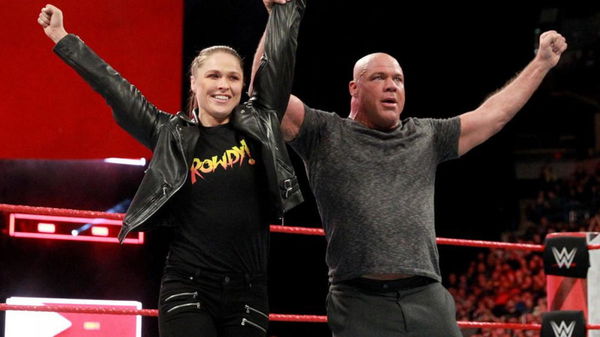 ---
---
WWE Hall of Famer Kurt Angle and former Women's Champion Ronda Rousey have found common ground outside WWE. The Superstars are working together on an upcoming project.
ADVERTISEMENT
Article continues below this ad
Angle took to Twitter to announce the news. They were standing in front of Ronda's "Rowdy's Dairy Home Delivery" milk truck, and Angle mentioned they spent the entire day filming.
He wrote, "Wait and see what @RondaRousey and your Olympic hero have in store for you. Yes! That's Ronda's milk truck behind us. We had a great day filming the show. #itstrue."
ADVERTISEMENT
Article continues below this ad
A fan responded by calling Angle a legend. Rousey retweeted this and added, "It's True #ItsDamnTrue." You can see their tweets below –
Ronda is currently expecting her first child with her husband Travis Browne. The couple's sustainable farm 'Browsey Acres' is probably involved in the upcoming project.
Angle's health supplement business 'Physically Fit Nutrition' could also be involved. It is safe to assume that WWE would not have anything to do with this venture between Angle and Rousey.
Ronda Rousey and Kurt Angle have an interesting WWE history
Apart from being a WWE icon, Ronda Rousey is a UFC Hall of Famer (first female Hall of Famer). She is the promotion's first female champion and set the record for most UFC title defenses by a woman.
When Rousey crossed over to WWE, she teamed up with Kurt Angle in her debut match. Their team won the mixed-tag team match at WrestleMania 34 against Triple H and Stephanie McMahon.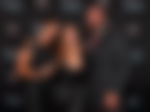 Looking back at their debut match, Angle recalled, "She did an excellent job. The one thing Ronda didn't do that she could/will do if she comes back, is that she never mastered the business because she wasn't in that long enough and what she did that whole year is incomparable."
ADVERTISEMENT
Article continues below this ad
"She dominated, and she put on great performances, but we had to tell her, this is what you're going to do here, this is what you're going to do there." Angle said on the Instinct Culture Podcast. "We had to give her step-by-step instructions and go over it with her for multiple days, so she would be ready for the match, so she knew everything that was gonna go on."
Rousey would go on to win the RAW Women's title. However, she has been inactive since WrestleMania 35 after losing the title to Becky Lynch.
Even after their respective departure from WWE, the Superstars have kept in touch. Angle is also friends with Rousey's husband, Travis. Hence, this new project doesn't come as much of a surprise!
ADVERTISEMENT
Article continues below this ad