WWE Hall of Famer Wants to End His Career After One Last Match With Randy Orton
Published 02/28/2021, 7:02 AM EST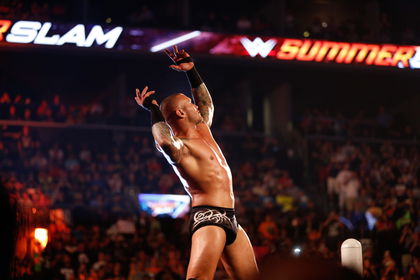 ---
---
WWE Hall of Famer Mark Henry wants to be back in the WWE ring for one last match. Right now, he believes he is in the right shape to come out of his retirement and face Randy Orton.
ADVERTISEMENT
Article continues below this ad
While speaking on the latest episode of SiriusXM's Busted Open Radio, Henry shared this feeling. He named "The Viper" as one of his probable opponents.
"I'd rather get punked out than to get my a** whooped," he explained further. "Randy [Orton] is not somebody to mess around with if you're not 100%.
ADVERTISEMENT
Article continues below this ad
"Now I'm walking on two feet, I'm 325 pounds, I'm lighter, trimmer than I've ever been, and I plan on having a match sometime in the next six months. I just want to have one match, and if Randy is the guy, then so be it. Believe me, I'll be ready and I won't be on one foot on a push scooter."
You can listen to Mark Henry's interview below –
The "World's Strongest Man" retired in 2017. He last appeared briefly on a scooter (hence the reference) on RAW Legend's Night, where "The Viper" humiliated him.
Mark Henry and Randy Orton have a long history
Henry won his sole World Championship from Orton at Night of Champions in 2011. However, when the Hall of Famer looks back at his 91-day reign, he finds some flaws.
"There were a couple of little things that I would have changed. I'm not going to get into them," Henry discussed on The Bump. "I saw the imperfection. When you get to the point where you have greatness, and all you see are the imperfections, you know you're on the right route."
ADVERTISEMENT
Article continues below this ad
"I knew I had to present myself like a World Champion. I planned on doing that, and I think I did do that," he stated. "I was a good champion. I was a fighting champion. In my departure, I left the business better than when I came into it."
Mark Henry definitely "paved" the way for many young wrestlers. Whether he will be back with his 'Hall of Pain' to face the 'Legend-killer' is a question only WWE officials can answer.
Let us know your thoughts on Henry's return in the comments below.
ADVERTISEMENT
Article continues below this ad