WWE Hall of Famer Mick Foley and Edge Recall The Motivation Behind Their Infamous Hardcore Match at WrestleMania 22
Published 04/05/2021, 8:45 AM EDT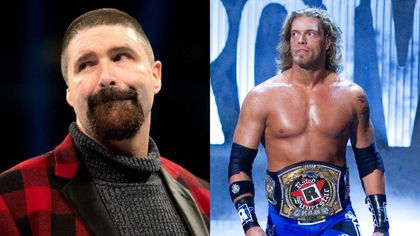 ---
---
The next episode in WWE: Untold will focus on the infamous hardcore match between WWE Hall of Famers Mick Foley and Edge. The episode focusing on the WrestleMania 22 match will air next Sunday during WrestleMania weekend.
ADVERTISEMENT
Article continues below this ad
The match had different motives for both the participants. Foley, who came out of retirement, was looking for his long-awaited WrestleMania moment. In the latest sneak peek, they both agree about Foley's lack of WrestleMania moments.
"Because he's had so many moments, I just kind of assumed one of them had to have taken place at WrestleMania," Edge recalled thinking. Then, he realized Foley never had one. Hence, he decided to be a part "of helping give him his moment."
ADVERTISEMENT
Article continues below this ad
Foley explains it the best as he said, "the best matches take place when two guys have goals that work together. So for me, my goal was redemption. For Edge. his goal was to be recognized as the biggest star in WWE."
Rightfully so, Edge had won the first-ever Money in the Bank and defeated John Cena to win his first WWE title. He proclaimed back then that his win made 25 million people tune in to WWE.com, making him the "most-watched WWE Champion of all time."
Edge and Mick Foley changed each other's image
Initially, WWE Universe's perception of Edge being a "pretty boy" hindered his success to some extent. To break this pre-existing notion, he needed to do something completely path-breaking.
Edge recalls being "mad" following the title loss to Cena in a rematch. He recalled, "That [losing to John Cena] made me mad because I felt like I was doing everything I could on my end and I was very motivated, and then in talking to Mick Foley I realized that he was just as motivated to get that moment and to help me, to help me solidify myself as a main-event player here, to help me change the perception in the fans' eyes."
Interestingly, Foley never questioned Edge's abilities inside the squared circle. Despite proving his toughness again and again, his "face" actually came in between.
"The crazy thing is, Edge by every known indicator had proved his toughness.," Foley revealed. "The ladders, the table matches he had with The Hardyz, The Dudleyz, they were second to none. And he and I both felt if we went all out that I could redeem myself and he could establish himself as the guy in WWE."
ADVERTISEMENT
Article continues below this ad
Their match at WrestleMania had every hardcore object ever including barbed wire, thumbtacks, and chairs. Often considered the most dangerous match in WM history, Edge won the match as he seared Foley through a burning table at ringside.
This match made Edge transition from "the pretty boy" to the "Rated-R Superstar."
ADVERTISEMENT
Article continues below this ad