WWE Hall of Famers Sting and Hulk Hogan Are the Only Duo to Achieve This Unique Milestone
Published 05/10/2021, 8:00 AM EDT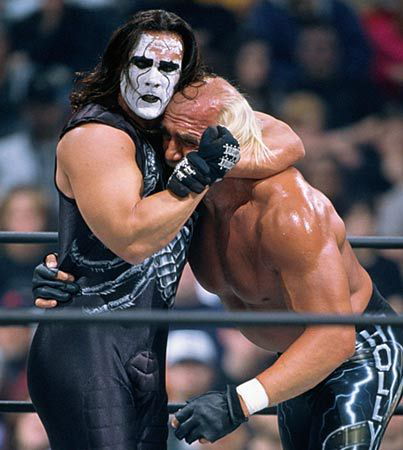 ---
---
Sting and Hulk Hogan are two of the greatest pro wrestlers to have ever graced the squared circle. Even today, when Hogan and Sting make their entrance, the crowd erupts in unison.
ADVERTISEMENT
Article continues below this ad
Both men have shared the ring several times in their careers. And speaking of sharing the ring, Hogan and Sting have done what no one else has managed to do so far.
Hulk Hogan and Sting – only duo to share the ring in WWE, WCW, and TNA
ADVERTISEMENT
Article continues below this ad
Pro Wrestling Evangelist ChanMan uploaded three images on Twitter, bringing an interesting fact to light. Notably, 'The Icon' and 'The Hulkster' have shared the ring for three different promotions.
Moreover, they have done so at the biggest PPV of the particular promotion.
We did some research over this tweet and concluded that it is indeed correct! Stinger and Hogan are the only two men to share the ring at WCW's Starrcade, TNA/Impact Wrestling's Bound for Glory, and WWE's WrestleMania!
The duo first met at Starrcade 1997, WCW's most profitable show in history. This match had it all – it had the big fight feel as a villainous Hogan battled the perfect adversary in Sting.
However, the match lacked creativity and pace, leading to an overall disappointing outcome. Eventually, it was Sting who walked out victorious that night with the World Title.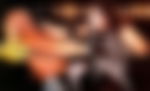 The Stinger and Hulkster met again fourteen years after their Starrcade 1997 clash at Bound for Glory 2011. The match had high stakes. If Sting were to lose, he would have to leave TNA for good. However, if Hogan lost, he would have to give TNA's control back to then-President, Dixie Carter.
Sting defeated another long-time rival, Ric Flair, to earn a shot against Hulk Hogan at Bound for Glory. The duo battled at TNA's flagship PPV for a little over 10-minutes with Sting getting another victory against 'The Immortal one' with his Scorpion Death Lock. It was a bloody night for the Hulkster!
Guess we can call them 'Immortal Icons?'
Unlike many former WCW Superstars and wrestling legends, Sting did not join the WWE in his prime. Instead, he went over to TNA and spent a considerable amount of time there.
However, he did make his way to the WWE in 2015 and quickly saw himself in a No DQ WrestleMania match against 'The Game' Triple H.
This was Sting's debut match in WWE, and that too, on the Grandest Stage of Them All! Just as Sting applied the Scorpion Death Lock on Triple H, his allies, DX, came out for the save.
However, Sting was smart and took out everyone on his own. But this allowed HHH to regroup and attack the 'Icon.'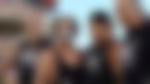 ADVERTISEMENT
Article continues below this ad
Just as Triple H retrieved the sledgehammer to attack Sting, the NWO's music hit, and out came Kevin Nash, Scott Hall, and Hulk Hogan!
We all know the history between Sting and NWO. Hence, them coming for his save as DX came for HHH's was really nostalgic to watch.
Triple H may have got the pinfall that night, but he surely didn't win. Sting stood inside the ring as over 60,000+ fans chanted his name.
ADVERTISEMENT
Article continues below this ad
'The Icon' embraced inside the ring with Nash, Hall, and Hogan. And it was this embrace that made history as he and Hogan became the only duo to share the ring for WWE, WCW, and TNA's flagship shows!