WWE Legend Jeff Jarrett Explains How He and Vince McMahon Buried the Hatchet
Published 05/05/2021, 12:00 PM EDT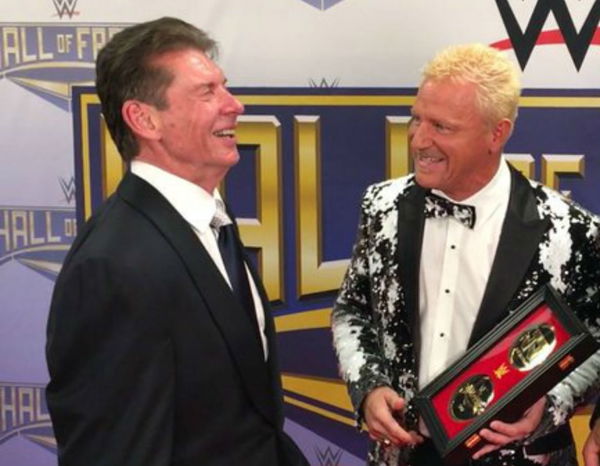 ---
---
In 1999, Jeff Jarrett wrestled his last match for WWE against an unlikely opponent. He was about to become the first male wrestler to drop a men's active title to a female wrestler. Jarrett figured he'd get paid a handsome sum for doing the job, but Vince McMahon had other ideas.
ADVERTISEMENT
Article continues below this ad
Jeff Jarrett reveals he never had issues with Vince McMahon
ADVERTISEMENT
Article continues below this ad
There have been rumors that Jeff Jarrett and Vince McMahon negotiated a $300,000 payday for Jeff Jarrett to drop the Intercontinental Championship to Chyna. The Ninth Wonder of the World quickly became one of the top stars in the company, even entering the Royal Rumble at #30.
Rumors include that Jarrett only received $150,000 to put Chyna over and not the amount agreed upon. On his podcast, My World, the Hall of Famer laid out all the facts and explained how he and Vince buried the hatchet.
"I went and got dressed and when I got dressed, I came out and Chyna is going over this, whatever, and Vince walks up in his three-piece suit, and I'll never forget the look.
"It's kind of those moments that, look, this wasn't in his highlight reel, I'm not saying that, but in my personal highlight reel, it absolutely was because he came up, opened up his shirt pocket, got out a while envelope, and said, 'Thank you, I appreciate it, now freaking…'
"He didn't use that word but he used another word. 'Go tear the house down.' I said, 'Yes, sir, boss, looking forward to it.' He handed me the check."
He reveals what happened in his last moments in WWE
At No Mercy 1999, Jeff Jarrett dropped the Intercontinental Championship to Chyna. It made her an instant superstar and the win over Jarrett put her in a distinct class of female talent. On his podcast, he also revealed how he said goodbye to Vince after the match.
"I told everybody that I saw that I rode up and down the roads with for two years… goodbye, which was cool. I got the opportunity to do that.
"Then I walked straight up to Gorilla and just sort of stood there because, you know, Gorilla is lots of moving parts, all kinds of stuff going on."
ADVERTISEMENT
Article continues below this ad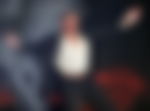 "Then I just waited for my moment and I stuck around the table, pat Vince on the shoulder. He looked over, took off his headset, got up, and we had a huge hug and embrace. I carried that emotion."
After the PPV, Jarrett returned to WCW, where he remained till it sank. After that, he wrestled in TNA, AAA, and other independent promotions till he entered the Hall of Fame in 2018.
ADVERTISEMENT
Article continues below this ad