WWE Legend John Cena Returns to TV as Wipeout Gets Renewed for Another Season
Published 05/20/2021, 8:00 AM CDT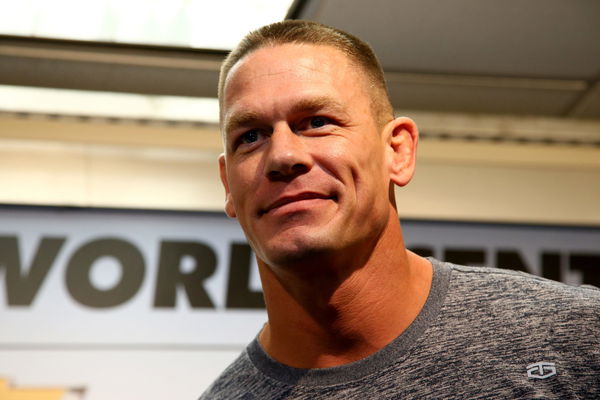 ---
---
John Cena has become more than a mainstream Superstar. The sixteen-time champion has branched into films, video games and now television too. Not only is he scheduled to star in the television remake of the Peacemaker, TBS has renewed Wipeout, the show he hosts.
ADVERTISEMENT
Article continues below this ad
John Cena and Nicole Byer to return to Wipeout
ADVERTISEMENT
Article continues below this ad
TBS has renewed for another season the comical obstacle course competition we all love. It is one of those evergreen shows that never fails to entertain, but it's also hosted by one of the most entertaining men in the world. (H/T Deadline)
Alongside Nicole Byer, Cena will return to hosting duties when the show returns. Cena and Byer replaced the legendary duo of John Anderson and John Henson, who hosted the show for six years [2008-2014]. Replacing field host Jill Wagner [2008-2014] was Camille Kostek.
ABC cancelled Wipeout all the way back in 2014, and TBS announced its revival in September 2020. According to Turner Entertainment Networks, Wipeout premiered as the #1 unscripted series on cable. Can we credit John Cena for this or is the show just that entertaining?
Also moving to TBS in 2022 is AEW Dynamite. Tony Khan confirmed he reached a deal with WarnerMedia and will debut a new one-hour show called Rampage.
Rampage will also move to TBS in 2022. This is big news for wrestling worldwide, as we'll have both AEW and WWE's biggest Superstar on the same network.
Cena's upcoming Hollywood projects
In 2021, John Cena has two huge movies coming out. He portrays Dominic Toretto's brother Jakob Torretto in the latest installment of the Fast and the Furious franchise.
ADVERTISEMENT
Article continues below this ad
Originally slated for a 2020 release, F9 released on May 19th, 2021 and stars Vin Diesel, Jason Statham, Ludacris, but not Dwayne Johnson.
Cena enters the DC Universe along with fellow WWE icon Dwayne "The Rock" Johnson as the Peacemaker in the latest Suicide Squad movie. He portrays a superhero obsessed with peace, and even described it hilariously. "He loves peace so much he'll kill for it. That one sentence, right there is so… F**ked."
The Rock also enters the DC Universe and will portray iconic supervillain Black Adam in the movie of the same name. Suicide Squad will be out on July 30, 2021, while Black Adam is in the filming process, releasing in 2022. Based on the movie, Cena will return as the Peacemaker in a television remake, airing worldwide in January 2022.
ADVERTISEMENT
Article continues below this ad