WWE Legend Kurt Angle Details his "Exhaust Training" for the 1996 Olympics
Published 04/26/2021, 1:31 PM EDT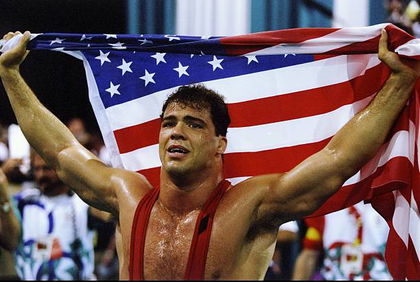 ---
---
To become an Olympic gold medal winning athlete, Kurt Angle put in a lot of effort. The future WWE Champion trained his backside off for the Atlanta Games in 1996 and won the gold medal despite being an underdog. But what must've Angle's training regime been like?
ADVERTISEMENT
Article continues below this ad
Kurt Angle details intense training regime for Olympics
ADVERTISEMENT
Article continues below this ad
Training for the Olympics was a tough ordeal for Kurt Angle. He wasn't the strongest man in the competition, neither was he the biggest. However, he relied on his conditioning and endurance to wear down his opponents.
On the Kurt Angle Show, the gold medalist talked about the intense training regime he followed to become a world-class athlete.
"Oh gosh, I would train nine to ten hours a day. It was really difficult because I got into this thing; it was called exhaust training, and that's when you train till you're exhausted, and that's when the training begins. So you train till you can't stand up anymore, and then you start training again."
"It worked extremely well. My conditioning went through the roof. I never got tired, I would wear my opponents down; it was the only way I was going to win the Olympic gold medal because I wasn't the best; I wasn't the strongest, and I wasn't the biggest. I wasn't the most technical, but what I did have is I had lungs and I had endurance."
Believe it or not, it was Angle's endurance and stamina that won him the Olympic gold medal. He easily saw off the best wrestlers from Mongolia, Iran, Cuba, Kazakhstan and Ukraine.
Angle details his daily training regime
On the podcast, he also detailed his daily training regime. Training for nine-ten hours sounds extremely difficult, but Angle's detailed explanation makes the effort sound Herculean.
ADVERTISEMENT
Article continues below this ad
"In the mornings I would train for about two hours. I would run seven miles; I would do 200 yard hill sprints, I'd go back and jog on the air dyne for 30 minutes and then I would do a half-hour sauna. In the afternoon I would go over technique wrestling. I would wrestle live for an hour and half-two hours, and then I would do conditioning again.
"In the night I would do my plyometrics, my isometrics, my heavyweight training and more conditioning. So I was doing nine to ten hours a day, every single day of the week. I took one day off a month and that was it."
Perhaps, it was this exhaust training that helped him in his 20-25 minute classics against the likes of Steve Austin, Brock Lesnar, Undertaker and Shawn Michaels.
ADVERTISEMENT
Article continues below this ad