WWE Legend Kurt Angle Explains How he Suffered a Concussion From A Pedigree by Triple H
Published 04/05/2021, 9:30 PM EDT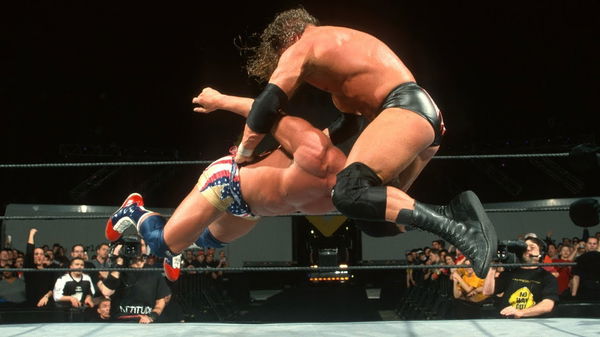 ---
---
Concussions are the stuff of nightmares for professional athletes. Whether it's a football player or a professional wrestler, concussions render the worst damage. WWE Hall of Famer Kurt Angle narrated an incident from SummerSlam 2000, where he suffered a concussion after a Pedigree from Triple H.
ADVERTISEMENT
Article continues below this ad
Kurt Angle suffered a concussion from a Pedigree
ADVERTISEMENT
Article continues below this ad
At SummerSlam 2000, The Rock defended his WWE title against Kurt Angle and Triple H. Prior to the match, Angle cut a great heel promo about Triple H's to-be-wife Stephanie McMahon. With Steph in his corner, Angle thought he had a straight path to the championship, but his mind games led to him getting concussed.
After the promo, Triple H attacked Angle from behind and hit him with a Pedigree through the announcer's table. Unfortunately, the table gave way and Angle landed square on his head. On the Kurt Angle Show, he explained how the events of SummerSlam 2000 played out.
"The thing is, it happened for real. I got knocked; I mean, really knocked out. When Triple H went to hit the Pedigree, he goes down up and down, so you can time it when you hit it and land on the ground. So when he went down, the table broke early, and he had my hands, arms trapped behind my back."
According to the storyline, Angle was supposed to get knocked out, leading to him being taken backstage. However, he suffered a concussion in reality.
"I landed four feet below straight with my head on the concrete, and I was out. Triple H was trying to get my attention. He said I was snoring, like I was just out of it.
"It was a complete nightmare. I couldn't remember any of it, but the match came across really good and you know, the thing is the outcome was Vince thought I hit a home run that day; I stepped up for the company. He said, 'I'm going to pay you back for this,' and he did."
Stephanie McMahon helped Kurt for the rest of the match
ADVERTISEMENT
Article continues below this ad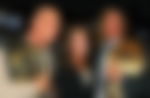 After the Pedigree, Angle was supposed to head back to the ring, but was in terrible condition. This led to Stephanie McMahon helping him to the ring and instructing him.
"I got knocked out, I came back out with Stephanie. She was assisting me, so she was going to tell me what to do before, all up until I got in the ring. So she's like 'walk with me, walk with me,' and I'd say 'what am I doing next?' She said 'just stand next to the ring, when the Rock's feet hit the rope, grab his foot, trip him."
ADVERTISEMENT
Article continues below this ad
Thankfully, Stephanie and referee Earl Hebner's instructions helped Kurt finish the match, which ended with The Rock hitting the People's Elbow on Triple H for the win.