"I Can't Think of Anything Bad That's Happened to Him"- WWE Legend the Undertaker Praises Chris Jericho
Published 01/22/2021, 1:08 AM EST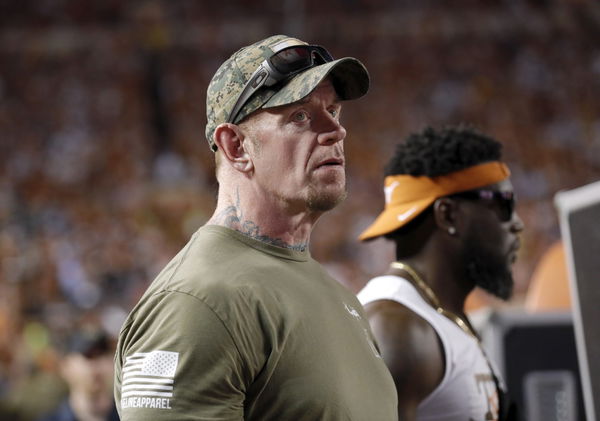 ---
---
Wrestling is a hard business where people get hurt to entertain millions of fans across the world. From broken necks and shattered ribs to brain damage, the risks to wrestling often outweigh the benefits. However, there are some wrestlers who have kept the injury bug away from them. The Undertaker named one such wrestler on the Joe Rogan Experience, who never got catastrophically injured.
ADVERTISEMENT
Article continues below this ad
Undertaker credits Chris Jericho for his lack of injuries
Yes, you read that right. Chris Jericho is the only WWE sSuperstar Undertaker knows to have suffered from zero catastrophic injuries. This is absolutely insane, considering the fact that Jericho has wrestled for over thirty years. The list of reasons Jericho is the GOAT of wrestling just got another reason.
ADVERTISEMENT
Article continues below this ad
"There's one guy that's really not had many injuries. His name is Chris Jericho. And, I can't think of anything that's really, you know, bad that's happened to him." This is a mighty claim by the Deadman, and one that Le Champion can back up well.
In his thirty-year career, spanning from WCW to AEW, from 1990 to 2020, Jericho has never been seriously injured. The only reason Y2J has taken time off from wrestling is to tour with his rock band, Fozzy. This is an insane fact about Jericho's career and really makes us wonder just how good he is in the ring.
ADVERTISEMENT
Article continues below this ad
Is Chris Jericho the safest wrestler to work with?
On the Joe Rogan podcast, Undertaker talked about the injuries suffered to Stone Cold Steve Austin, Kurt Angle and himself. Austin suffered a broken neck courtesy of a Piledriver from Owen Hart. Kurt Angle suffered multiple neck injuries that led to him retiring prematurely. As for Chris Jericho, he has wrestled way past these living legends and is still very relevant.
ADVERTISEMENT
Article continues below this ad
The most dangerous move Jericho executes is the Lionsault, which he still performs exquisitely at fifty. Apart from the springboard moonsault, Jericho relies on his simple yet effective repertoire, which includes the Judas Effect, the Codebreaker, the Walls of Jericho and the Liontamer.
The way things are going, we will see Jericho wrestle for another ten years, and maybe even more. If Jericho does somehow wrestle till his 60s, he will definitely become the most iconic wrestler of his generation.