WWE Makes Bizzare Decision on Raw – Restarts the Women's Match Three Times
Published 01/25/2021, 9:47 PM EST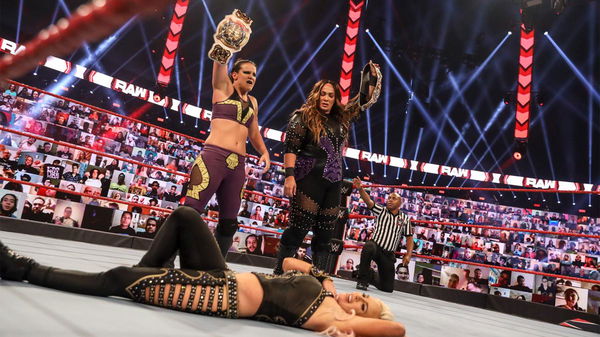 ---
---
WWE Raw: January 25, 2021, featured a match between Charlotte Flair and Shayna Baszler. This was the original match until several interferences required WWE to restart the match thrice.
ADVERTISEMENT
Article continues below this ad
The match started with The Queen battling Shayna Baszler. Within seconds, Nia Jax interfered to help her partner take down Charlotte Flair.
This was a clear DQ, and WWE restarted the match.
ADVERTISEMENT
Article continues below this ad
WWE turned a singles match into a tag team match
The second time the match started, the singles match had turned into a brawl with Mandy Rose, Dana Brooke, and Lacey Evans interfering. It now turned into a six-woman tag team match.
During the second match, Shayna Baszler and Charlotte Flair were fighting outside the ring. The referee called for the bell when the former could not beat the 10-second count.
Mandy Rose, Dana Brooke, and Charlotte Flair won the second match.
WWE restarted the match a third time
It was primarily Nia Jax and Dana Brooke who were inside the ring at the end. However, with some help from Rose and Flair, she held the fight for some time.
Finally, Nia Jax delivered a leg drop to secure the victory via pin-fall.
The result – Nia Jax, Shayna Baszler, and Lacey Evans defeated Dana Brooke, Mandy Rose, and Charlotte Flair via pinfall.
The reactions to the match
Fans and analysts were taken aback by WWE's decision to constantly restart the match. It looked more confusing than anything.
ADVERTISEMENT
Article continues below this ad
Most believe that this was not an impressive start to Raw. It almost seemed that the company wanted to drag on the match until it could put the heels over the faces.
If this was a one-time thing, the company can get away with the train wreck. However, if this becomes a repetitive format, there's a possibility it won't help with ratings.
ADVERTISEMENT
Article continues below this ad
Do you think restarting the match thrice was a good strategy for audience engagement? Let us know in the comments below.