WWE Missed an Opportunity to Build a Massive Storyline for Brock Lesnar
Published 12/02/2020, 8:19 AM EST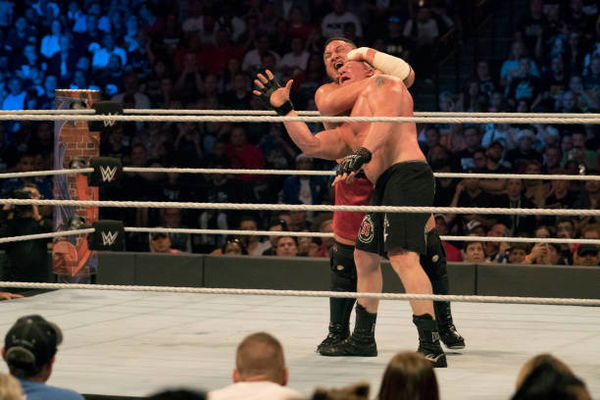 ---
---
In 2017, WWE booked a genuine dream match of epic proportions for a minor PPV. This match could've main evented WrestleMania, headlined the Tokyo Dome, and could've sold out any independent wrestling show ever. Brock Lesnar had only just won the WWE Title, but his first challenger was an absolute beast.
ADVERTISEMENT
Article continues below this ad
There will never be another like Samoa Joe
ADVERTISEMENT
Article continues below this ad
Samoa Joe will always be the only man who can realistically beat Brock Lesnar in WWE. Not Roman Reigns, not Seth Rollins, not Braun Strowman and definitely not John Cena. Drew McIntyre comes close, but none had the intensity and aura of Samoa Joe.
Joe made a name for himself in Ring of Honor and TNA. His battles with the likes of CM Punk, AJ Styles, Tyler Black (now Seth Rollins) and of course Kurt Angle, earned him the name the 'Samoan Submission Machine'. His submission game rivaled that of Bryan Danielson, and was as agile in the ring as AJ Styles.
Joe was the perfect combination of muscle, technique, explosiveness and finesse. He wrestled effortlessly against some of the stiffest wrestlers of the planet. His match against Kenta Kobashi is one of the finest wrestling matches on American soil. When he came to WWE, he automatically qualified as a dream opponent for Brock Lesnar.
Brock Lesnar vs Samoa Joe was a dream match we never thought we'd see
The Beast returned to WWE in 2012 and wreaked havoc. Since his return, he's held the WWE Championship, broken the Undertaker's Streak, beaten Triple H, suplexed John Cena into oblivion, and made at least a $100 million in sporadic appearances.
Lesnar won the WWE Universal Championship at WrestleMania 33 from Goldberg. Fans were overjoyed to see Lesnar back on top of Raw, and were looking forward to the plethora of opponents who would be sent to Suplex City. At Extreme Rules, a new number one contender was crowned, and fans salivated at the prospect of Samoa Joe vs Brock Lesnar.
The story and legacy of the match
The two were scheduled to face at 'Great Balls of Fire', which was too good a PPV to deserve such a terrible name. In the run-up to the PPV, Joe managed to make himself look like the biggest threat to Brock Lesnar since the Undertaker. ; The Samoan Submission Machine' wasn't just looking to snatch the Universal Title, but to destroy the aura Brock Lesnar had generated.
The behemoths fought tooth and nail in an epic main event. Joe attacked Lesnar before the bell and drove him through the announcer's desk. The challenger kept trying to lock in the Coquina Clutch, but Lesnar was wary of the deadly submission. He somehow subdued the raging Samoan and put him down with a single F5.
Will we see Samoa Joe and Brock Lesnar in the same ring again?
ADVERTISEMENT
Article continues below this ad
The match received a lot of criticism due to its short length (six minutes) and the erratic finish. However, the finish made it clear that Lesnar did not beat Joe effectively, but only managed to escape him. A one-on-one rematch was required, but WWE pushed forth a Fatal Four Way match at SummerSlam, adding Roman Reigns and Braun Strowman to the fray.
Joe vs Lesnar is one rivalry that WWE still have on their hands. Joe is still on commentary, while Lesnar might sign a new contract for WWE by WrestleMania 37. They have great chemistry, a decent history, and with 20-25 minutes they can put together a match that will top Joe's matches with Kobashi, and cement his legacy as a legend in WWE.
ADVERTISEMENT
Article continues below this ad
Would you like to see this match take place?