WWE Provides Medical Update on Randy Orton After the Fireball Attack by Alexa Bliss on Raw
Published 01/14/2021, 1:34 AM EST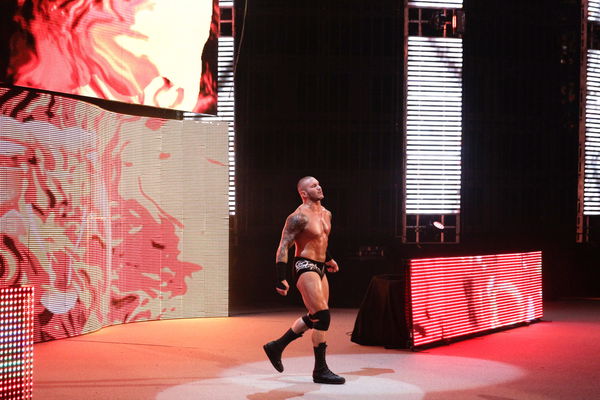 ---
---
On WWE Raw, Randy Orton suffered a horrific injury after being shot in the face with a fireball. Alexa Bliss was the guilty party who blasted Orton in the face after making her creepy return on Raw. Orton's match with Triple H came to an unfortunate ending, but it is intriguing to see where Bliss and Orton's story goes from here. WWE put out an injury update for Randy Orton.
ADVERTISEMENT
Article continues below this ad
WWE provides injury update on Randy Orton
ADVERTISEMENT
Article continues below this ad
On WWE Raw, Randy Orton challenged Triple H to a No Holds Barred match in the main event. The match went for about five minutes until the Game pulled out his sledgehammer. Suddenly, the lights went off and Triple H's sledgehammer caught fire.
When the lights returned, Triple H was gone and Randy Orton found himself with the Fiend's demonic friend. Alexa Bliss stared down the Viper fearlessly, before shooting a fireball in Orton's face. Orton writhed in agony as the show ended in another cliffhanger.
According to WWE's official website, Orton suffered minor burns to his face, courtesy of the attack by Bliss. Although the injury is a kayfabe one, Orton is lucky to have emerged with only minor burns and not permanent damage to his face.
How will this storyline progress?
ADVERTISEMENT
Article continues below this ad
We all know that this storyline is going to end with the Fiend returning and punishing Orton for his sins. But until he returns, how will Alexa Bliss and Randy Orton's issues be settled? After Alexa supposedly set herself on fire, we thought we'd seen the last of the Fiend's possession. But WWE wants this story to continue.
Until the Fiend returns, it looks like Randy Orton won't be able to move on to anything else. The match with Triple H sounded promising, and a WrestleMania feud between the two would have been interesting at best. However, it is for the best that WWE does not want to ditch the storyline with the Fiend.
ADVERTISEMENT
Article continues below this ad
After claiming the likes of Daniel Bryan, John Cena, Braun Strowman, Finn Balor and the Miz as victims, getting a big scalp like Randy Orton might just put the Fiend in prime position to challenge for the WWE Championship. Once the Fiend returns, we know he will be hungry for gold. After defanging the Viper, Bray Wyatt might have a Scottish Warrior on his list.