WWE Raw Confirms Fourth Survivor Series Team Member After Insane Match
Published 11/02/2020, 10:07 PM EST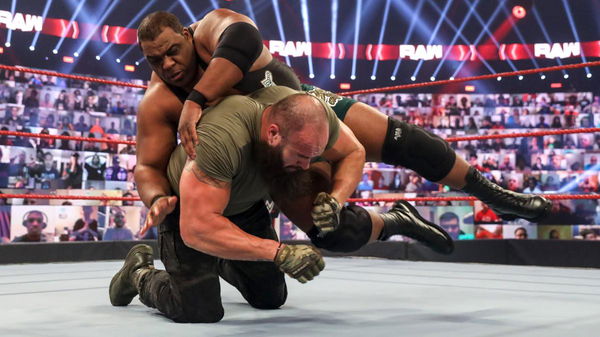 ---
---
Keith Lee, Sheamus and Braun Strowman clashed in a titanic triple threat on Raw. If Strowman won, he would become the fourth member of Team Raw at Survivor Series.
ADVERTISEMENT
Article continues below this ad
Team Captain AJ Styles was at commentary to watch the action unfold. The match was a brutal and hard-hitting one, with all three men throwing absolute bombs at each other.
Blockbuster Triple Threat Match on Raw
ADVERTISEMENT
Article continues below this ad
Within the first five minutes of the match, Keith Lee hit a terrifying dive over the top rope onto Strowman and Sheamus. He, however, botched the dive by hitting his neck on the apron mid-dive.
Lee walked out of the botched move unscathed to his good fortune. He went on to dominate the match until Strowman drove Lee and Sheamus through the barricade.
Lee and Sheamus got taken out by vicious shoulder blocks by Strowman after the commercial break. Strowman looked set to squash Sheamus in the corner but he avoided the charging Monster and delivered a very impressive White Noise for a nearfall.
Sheamus made his way to the top rope and Strowman followed him up. Lee interrupted and lifted Strowman on his shoulders, who proceeded to suplex Sheamus off the top rope.
All three men slammed to the mat with a vicious thud. Sheamus weighs 270 pounds while both Lee and Strowman are 300+ pounds. The move had AJ Styles asking, "How's the ring?"
Keith Lee was the MVP of the match; Strowman qualifies for SS '20
The match seemed to descend into chaos and shenanigans once Strowman looked to hit a low blow on Lee. All three men traded power moves.
ADVERTISEMENT
Article continues below this ad
Lee hit a running cross-body block on Strowman and a standing belly-to-belly suplex on Sheamus. Lee flattened Strowman with a devastating lariat for a nearfall, before Sheamus nearly kicked his teeth out with a Brogue Kick.
The match came to a sudden end, with Lee incapacitated by the Brogue Kick. Strowman scooped Sheamus up and hit him with the Running Powerslam. That was enough to give him the win and make him the fourth member of Team Raw.
ADVERTISEMENT
Article continues below this ad
AJ Styles was elated at ringside by the result. "We're never getting defeated," chimed the Phenomenal One. Post match, Styles tried to get his team to shake hands and let bygones be bygones. However, Sheamus hit Strowman with a Brogue Kick and in the end, Styles was the last man in the ring, screaming "Why!?" in despair.