WWE Raw: Shane McMahon Ridicules Braun Strowman by Leaking His Embarassing 5th Grade Results
Published 03/29/2021, 10:17 PM EDT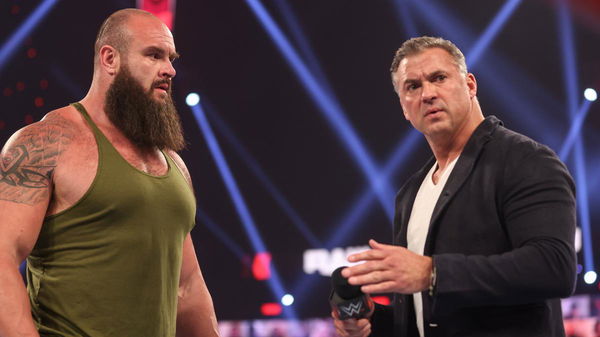 ---
---
Braun Strowman has been trying to tell the WWE Universe that he is not stupid, but Shane McMahon keeps making it harder. Unfortunately, McMahon knows the past and can reveal secrets that are evidence to his claim about 'The Monster Among Men'.
ADVERTISEMENT
Article continues below this ad
On the latest episode of Monday Night Raw: March 29th, 2021, Shane McMahon appeared inside the ring with Jaxson Ryker and Elias, and Strowman's fifth grade report card!
Shane McMahon read the card out loud. It showed grade D for all subjects, even gym. Furthermore, he read the comments which suggested Strowman needed special help to get through his classes.
ADVERTISEMENT
Article continues below this ad
It's no surprise that this action instigated Braun Strowman to come to the arena. Of course, Shane McMahon may not admit it, but he knew he had angered the behemoth, and there was no turning back from this.
Instead of fighting Strowman himself, McMahon let Jaxson Ryker face the monster's wrath. Ryker tried to defend himself against Strowman, but to no avail.
This brief match ended with Braun lifting Ryker and powerslamming him for the win. This is when Shane McMahon knew it was time to run!
Braun Strowman revealed the stipulation for WrestleMania
Braun Strowman chased McMahon but was interrupted by Elias, who teamed up with Shane to take him down. Even then, Strowman overpowered them, and McMahon ran for dear life.
Braun Strowman took the microphone and made an announcement that left Shane McMahon speechless. He informed McMahon that after giving it significant thought, he had decided their match at WrestleMania will be a steel cage match.
This time, Shane McMahon will have nowhere to run.
The fans' verdict about the rivalry
In a previous segment, Strowman had claimed that he wanted to put a stop to the constant bullying and send McMahon back to his mansion.
As and when this feud ends, there will be only one man standing. Many are of the opinion that this storyline is being used to put McMahon over when it's Braun Strowman who deserves the attention.
Some fans have stated this storyline is taking a turn towards the dull side. On the other hand, several fans have said it's time the monster goes on ahead and takes down Shane McMahon.
I can literally hear all the TVs being turned off around the country simultaneously. #WWERaw

— Frank Ojeda (@UCLADodgerFrank) March 30, 2021
This fued makes me wana jump off a cliff

— Jose Barrientos (@bulletclubfever) March 30, 2021
ADVERTISEMENT
Article continues below this ad
Currently, predictions go in favour of both Strowman and McMahon. Ultimately, it will be Strowman who will need the push. The question remains – will WWE be willing to book a humiliating defeat for Shane McMahon?
What do you think? Let us know in the comments below.
ADVERTISEMENT
Article continues below this ad