WWE Universe Reacts to Braun Strowman Getting 'Slimed' by Shane McMahon
Published 03/15/2021, 11:35 PM EDT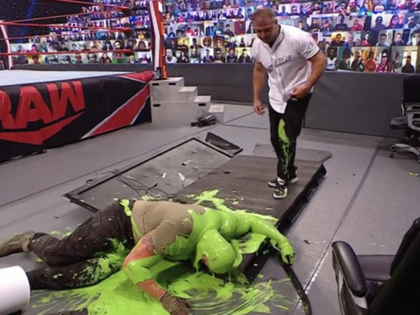 ---
---
In a move that has made fans scratch their heads, WWE has booked Shane McMahon and Braun Strowman into a rivalry.
On Monday Night Raw: March 15, 2021, McMahon and Strowman were supposed to have a fight after Strowman called the former out for his silver spoon upbringing.
In the match, Shane put Braun Strowman through the announcer's table before pouring a bucket of green slime all over him.
Needless to say, the WWE Universe reacted to this segment in a big way. Unfortunately for WWE, the fans aren't quite impressed with it.
One of the popular reactions from the fans was comparing this segment with kids' TV channel, Nickelodeon.
A section of the fans completely dismissed the idea of booking an out-of-touch Shane against a peak Braun Strowman.
Finally, there are fans who want the rivalry to move forward. In fact, the fans believe this feud will make its way to WrestleMania.
Following this bit, Braun Strowman recovered and was enraged. He warned Shane McMahon that he will soon rip him in half.
WWE has now booked the duo for a match at Fastlane instead of waiting till WrestleMania.
Will Shane McMahon vs. Braun Strowman work?
The problem with Shane McMahon and Braun Strowman being booked in a rivalry is that 'The Monster Among Men' might not get the spotlight he deserves.
More often than not, Shane McMahon's presence in a rivalry overshadows the other Superstar. It might not be intentional, but the storyline proceeds in a way that McMahon doesn't actually put the wrestler over, but undermines them.
Lately, WWE hasn't used Strowman to his full capacity. The company booked him in rivalries that did not last too long and hence, his character development is still patchy. If that is evidence, it's possible that this feud will not have any dividends post WrestleMania.
In the off chance it makes it to WrestleMania, it's imperative the company writes the rivalry in a way that gives Strowman his fair share of the spotlight.
WWE is building this storyline based on Shane McMahon calling Strowman "stupid". Fans expected Strowman to teach McMahon a lesson by shutting his mouth for good.
However, 'The Monster Among Men' surprisingly didn't do that, and instead of ripping McMahon in half, he demanded an apology from him.
This epiphany lasted a couple of minutes before Shane McMahon outsmarted him again.
The fact that the company is constantly creating segments where the monster restrains himself from going the physical route might not benefit him once the feud ends.