John Cena Name-drops Jon Moxley on WWE SmackDown During Fiery Face-Off With Roman Reigns
Published 08/13/2021, 8:50 PM EDT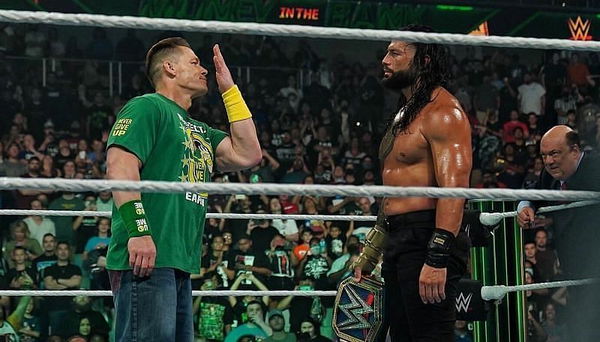 ---
---
WWE SmackDown: August 13th, 2021 started with a segment involving the two primary names of WWE at the moment – Roman Reigns and John Cena.
ADVERTISEMENT
Article continues below this ad
The Invisible Man came out to the ring first to address the crowd. He started talking about The Tribal Chief, and graded Reigns. However, he wanted the Tulsa, Oklahoma crowd to give their verdict. Hence, he asked the fans in the arena an important question.
"Do you think Roman Reigns will beat the h*ll out of me in SummerSlam 2021?"
ADVERTISEMENT
Article continues below this ad
At this, the crowd erupted with boos! More than half the arena was on Cena's side. In fact, they continued to cheer "Cena, Cena" at intervals.
Now, after the crowd gave their verdict, John Cena gave his own answer.
"Roman reigns will beat the hell out of me in SummerSlam but I also know Roman reigns will lose at SummerSlam."
Watch This Story: Funniest Moments of WWE Legend John Cena
A confident Roman Reigns entered the arena with Paul Heyman
When The Tribal Chief arrived at the arena, the crowd started chanting "Roman Sucks!"
At this point, John Cena directly spoke to Roman Reigns. He informed The Tribal Chief he will be the answer to the trivia question – "Who will John Cena beat to become 17 time champion?"
"You WILL lose! You'll complain and throw a fit saying it's the Vegas Screw job! But ALL I have to do is pin your shoulders for 3 seconds and your life is over. You will be the biggest failure in WWE history! You'll be the answer to a trivia question."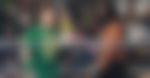 However, Roman Reigns hit back at Cena with another missionary comment. Even though uncalled for, it was a cunning comeback and digging up Cena's past.
"You're good enough to win a WWE Championship but you're not good enough to win the universal championship. 20+ years of missionary might have been good enough for you but it wasn't good enough for Nikki Bella. I will smash you."
John Cena dug up the past as well
When The Tribal Chief took the below-the-belt shot, Cena did the same before telling Reigns exactly what will happen at SummerSlam.
"You almost ruined Seth Rollins. You ran dean Ambrose out of WWE."
ADVERTISEMENT
Article continues below this ad
As per the returning megastar, he will beat Roman Reigns, take the title, jump the barricade, and run out of the arena! In fact, he may even blow Reigns a little kiss. But, he assures Roman Reigns regardless of all the beating he takes, he will "hang on for 1, 2, 3".
ADVERTISEMENT
Article continues below this ad
Shortly after this, John Cena left the ring, marking the end of the segment.
Now, do you think John Cena can pin Reigns at SummerSlam 2021? Let us know in the comments below.