WWE Superstars that May Be a Part of Retribution
Published 08/10/2020, 3:33 PM EDT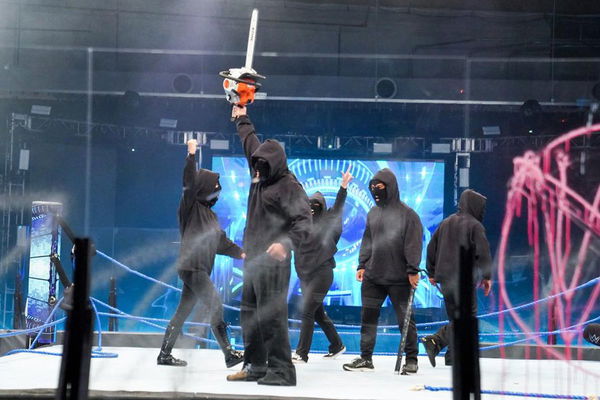 The WWE Universe has been all over the place these past few days looking for answers. The root cause of this is none other than the new faction Retribution.
ADVERTISEMENT
Article continues below this ad
The group made their debut last week on Monday Night Raw and since then, the identity of the members has been in question.
When Retribution invaded SmackDown and vandalized the ring area, fans managed to capture one clue. This clue has led everyone on a wild goose chase to determine the identities of other members.
ADVERTISEMENT
Article continues below this ad
One of the members let down her hair, which was long, brown, and curly. This very much resembled the hair of NXT Superstar Vanessa Borne who was called up to the main roster earlier this year. However, she hasn't even made an appearance yet.
We realized that there isn't one but two female members in the group. One may or may not be Borne, but there's a big probability that the other female is Chelsea Green. 
The reason these two have been dragged into the investigation is that they both fit in the missing space perfectly. Both Superstars were promoted to the main roster but have been waiting to make a big debut. This would be the best use of their talents.
Tommaso Ciampa and Dominik Dijakovic are highly suspected
As for the men, fans have been bringing up the names of Tommaso Ciampa and Dominik Dijakovic. The two NXT Superstars very suspiciously cleared their twitter account history over the last couple of weeks. Whether this was an intentional bait or not, we can't tell.
There's also the names of Cedric Alexander and Ricochet that have been brought up. Mustafa Ali is another promising name on this list. 
All these Superstars may have one thing in common- not being used up to their full potential. Hence the name 'Retribution', that literally translates to vengeance for an act of wrong-doing. 
ADVERTISEMENT
Article continues below this ad
While the fans continue to look for clues like its Scooby-Doo, the writers may have achieved exactly what they had hoped for – viewer interest.
ADVERTISEMENT
Article continues below this ad
A decade after one of WWE's best factions Nexus debuted and took the WWE Universe by storm, a new faction has emerged that seeks to go the same high road. 
What the intentions of this group are (besides vandalism), we still don't know. What we do know is that they're here to stay, and they mean business.