WWE vs AEW: Which Promotion Won the Battle In 2020?
Published 12/30/2020, 8:35 AM EST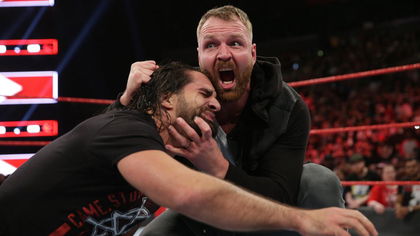 ---
---
The global pandemic had the entire wrestling scene in panic mode. The lack of an audience hurt WWE WrestleMania 36, the biggest wrestling event of the year. AEW vastly relies on its live audience to boost the feel of being in an AEW arena. Despite these circumstances, while the entire world was at a halt, wrestling did not stop. However, the question that begs to be asked is, who did it better?
ADVERTISEMENT
Article continues below this ad
How well did WWE do in 2020?
ADVERTISEMENT
Article continues below this ad
WWE started 2020 with a bang. The Royal Rumble was arguably the best PPV of 2020. Drew McIntyre's victory and Edge's highly emotional return capped off a night of stunning action. Unfortunately, the months following the Rumble were pretty mediocre. Elimination Chamber was quite a boring affair, and the build to WrestleMania was severely lacking.
It is odd to say that WWE got lucky once the pandemic struck. However, they did significantly better than the first few months of the year. Just when things looked good for WWE, we had the terrible Black Wednesday. On Wednesday, April 15, 2020, dozens of WWE talent were released and/or furloughed.
The wrestling business reeled from the effects of Black Wednesday for some time, but WWE bounced back in a major way. WWE ThunderDome is probably the coolest thing WWE has ever produced since introducing the WWE Network in 2014. The virtual fan interaction experience makes for a much better aesthetic than the bland Performance Center environment.
Certain WWE superstars have had a much better year than others. The likes of Drew McIntyre, Roman Reigns, Sasha Banks, and Bayley enjoyed a splendid twelve months atop the WWE. Certain wrestlers were given a second chance with the Brand Split. The likes of Cesaro, Nakamura, Big E, Riddle, Corbin, Chad Gable, and many more are now valuable additions to the Raw and SmackDown mid-card.
In terms of match and storyline quality, WWE has been doing a pretty decent job. Edge vs Randy Orton was the perfect rivalry, minus their boring Last Man Standing match at WrestleMania. Bayley vs Sasha Banks brought the best out of each other as both friends and rivals. Finally, every match involving Roman Reigns is nothing short of brilliant.
Did AEW top WWE in 2020?
AEW has not been consistently good in 2020. They have had a few rough patches, but they have stayed out of any controversial situations during this troublesome time. AEW in fact benefited from the WWE releases. Matt Hardy, Brodie Lee, Matt Cardona, and Miro made the jump to AEW during the pandemic.
AEW got off to an incredible start, just like WWE did. Revolution was one of the finest PPVs of the year, and the AEW Tag Team Championship match from the event is the certified Match of the Year. Jon Moxley took away the AEW Championship from Chris Jericho and embarked on a superb reign. We can say the same for Hikaru Shida, who has been unstoppable this year.
If you compare AEW's biggest event to WWE's biggest event, you won't see much of a difference. Both were magnificent shows, hampered by a lack of a live audience and boosted by some brilliant cinematic matches. WrestleMania's Boneyard match and Double or Nothing's Stadium Stampede were two of the most entertaining matches of the year.
AEW's male division has only just outperformed WWE's male division. While Drew McIntyre's WWE Championship reign was outstanding, it paled in comparison to Jon Moxley's run as the top dog. Hikaru Shida looked much more dominant than Asuka, Bayley, or Sasha Banks. AEW's tag team division was stacked in 2020 and has been the highlight of AEW's year.
ADVERTISEMENT
Article continues below this ad
In terms of match and storyline quality, AEW absolutely smoked WWE out of the water. Television matches like PAC vs Kenny Omega, Cody vs Wardlow, or even Britt Baker vs Hikaru Shida were much better than WWE's PPV matches. NXT is the only part of WWE that matched AEW's match quality.
Final Verdict: AEW had the better year
ADVERTISEMENT
Article continues below this ad
It could not have been more obvious. AEW set out to prove themselves equal to WWE but ended up outperforming them completely. It won't be surprising if AEW Dynamite starts receiving higher viewership than Monday Night Raw. WWE requires a reality check of that level, or else 2021 won't look much different from 2020. With Kenny Omega as champion and Sting in their ranks, AEW is coming for the throne.