WWE's New Post Leaves the WWE Universe Furious Over WrestleMania 37 Main Event
Published 03/26/2021, 9:36 AM EDT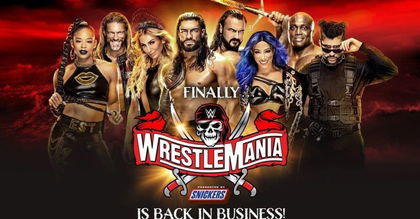 ---
---
We're less than a month away from WWE WrestleMania 37, and we can't contain our excitement! The match card so far looks promising, but we're still unsure who will main event the show. Yes, we know the Royal Rumble winner's championship match is supposed to be the main event, but WWE has ignored that fact for a few years now!
ADVERTISEMENT
Article continues below this ad
WWE Universe unhappy over WrestleMania 37 main event
WWE recently tweeted an image that had all the major World and Women's Champions on it. They asked the WWE Universe who they would like to see in the main event of WrestleMania. While it is nothing wrong, the post has left many sour in the WWE Universe.
ADVERTISEMENT
Article continues below this ad
The WWE Universe is wondering if the "Guaranteed championship match, in the main event of WrestleMania," is actually a true statement or just a tagline for promotion.
They feel that suggestions for the main event match are indirectly diminishing the credibility of the Royal Rumble winner's victory.
Since when are the Main Events up for grabs? But there are two obvious choices, Drew vs Lashley and Edge vs Roman (vs Bryan)

— WWE Talk (@WWETalkTime3) March 25, 2021
While some thought that way, there were others who saw the other side of the story. One Twitter user pointed out how it makes little sense for the Royal Rumble winner to headline WrestleMania when there are other marquee matches on the card like The Undertaker vs Shawn Michaels at WrestleMania 25.
To be fair… HBK 95, Austin 97, Vince 99*, Rey 06, Taker 07, Cena 08, Edge 10, Alberto 11, Sheamus 12, Orton 17, Asuka/Nakamura 18. It's not just recent. And the Rumble winners in 02 and 09 main evented over Rock vs Hogan and HBK vs Taker… and that did not go well for anyone.

— JustVaccinated™ ✊🏾 (@JustChrisTM) March 25, 2021
Well, the argument of marquee matches becoming main events over Royal Rumble winner's Championship match makes sense. But this year, there is no over-the-top marquee match we see. Why? Because Edge has won the Rumble, and he's definitely going to main event one of the two nights of WrestleMania.
ADVERTISEMENT
Article continues below this ad
As far as the second main event goes, Sasha Banks and Bianca Belair could write their name in the history books, becoming the second Women's main event at WrestleMania.
We hate to break this to everyone, but even though the Women's main event sounds good, WWE won't go that route. Bobby Lashley and Drew McIntyre will main event the other night of WrestleMania. And that isn't a prediction. It's a spoiler!
ADVERTISEMENT
Article continues below this ad