"This is Too Much": WWE Legend Narrates How Vince McMahon Stepped In to Save Stephanie McMahon From Getting Attacked
Published 09/19/2022, 2:42 PM EDT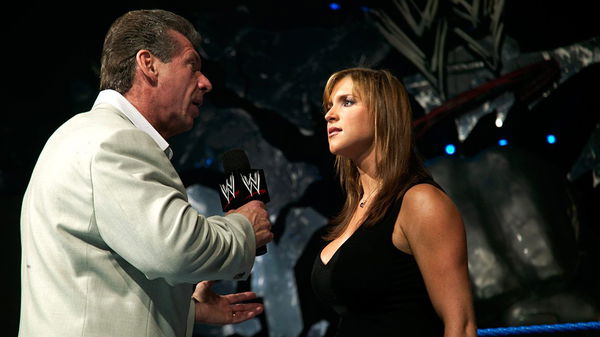 Stephanie McMahon had played all her WWE gimmicks perfectly. The Billionaire Princess was usually shown as a heel in the company and we have seen her taking bumps from the divas often. But once Vince McMahon kept aside the storyline of the company and prohibited a male wrestler from landing a move on her.
ADVERTISEMENT
Article continues below this ad
The love triangle of Stephanie McMahon, Triple H, and Kurt Angle was a widespread storyline in the early 2000s. King Kurt was trying to steal away the Queen of Queens at that time. The only catch was that Triple H was already married to Stephanie at that time. So the love triangle ended in a match at the main event.
ADVERTISEMENT
Article continues below this ad
In his podcast, The Kurt Angle Show, Angle shared the hilarious incident where Stephanie McMahon took two bumps from Hunter while fighting him. Stephanie was trying to break up the fight between the American Hero and Triple H but got hurt herself instead.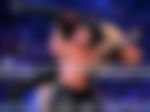 When Triple H realized his mistake, he rushed backstage carrying Stephanie, but Angle took advantage of the situation and took his shot at Hunter. But, in his podcast, King Kurt confessed that the original plan was a little more violent for Stephanie McMahon.
Vince McMahon changed the plan for his daughter
ADVERTISEMENT
Article continues below this ad
According to Kurt Angle, Stephanie McMahon was supposed to take three more accidental bumps, but Vince McMahon interfered with the original plan. "You know it's crazy we're gonna do three more spots where we actually landed on Stephanie again. But Vince was like this is too much so we had to take three of them out. … She was getting her a** beat."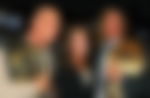 Maybe the intuition of Vince McMahon as a father stopped Kurt Angle from hitting his daughter. The company was the inheritance of Stephanie McMahon and maybe Mr. McMahon wanted to secure the future of the company as well as his daughter. The Olympic gold medalist explained the whole situation as a memorable event. 
ADVERTISEMENT
Article continues below this ad
Watch This Story: From Kurt Angle to John Cena superstars who cut a romantic promo in WWE
The whole situation resulted in a match between Kurt Angle and Triple H at the Unforgiven main event. Mick Foley became the special referee for the match. However, the match resulted in American Hero's victory.