"You Never Say Never"- The Undertaker Opens Up About The Dream Match Against Sting
Published 06/19/2020, 2:57 PM EDT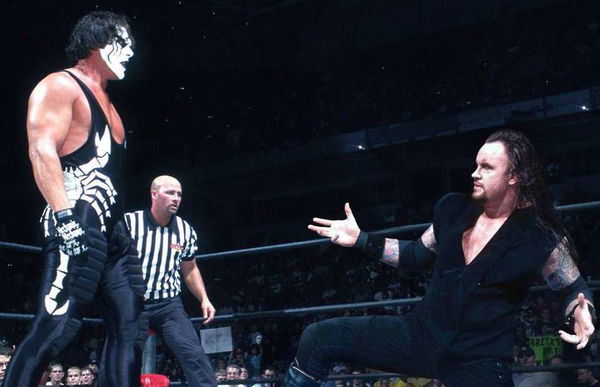 ---
---
The Undertaker has been a consistent face in WWE for over three decades now. He's faced whatever WWE can throw at him and has battled generations of Superstars. However, fans have one last dream match for The Undertaker, against Sting!
ADVERTISEMENT
Article continues below this ad
"The Icon" had returned to WWE to spark a feud against Triple H, but it turns out that the entire return was a one-time thing. He hasn't been seen ever since in the WWE.
The fans had hoped to see him lock horns with "The Deadman" at least once before he left. Now that the question of The Undertaker's final match is coming to light, fans have escalated this discussion.
ADVERTISEMENT
Article continues below this ad
The Undertaker himself in an interview broke his silence about this dream match.
"Well, in this world, you never say never, but I think as great as it sounds on paper… And it does, I mean obviously, that is a super marquee match, right? But where I kind of differ from a lot of people is I look past the marquee value and I look on the ability to deliver," says The Undertaker.
The Phenom, says that the match sounds great and flawless on paper but the reality is completely different. He explains how fans look at the height of such a match but he looks at his ability to perform.
"So like you said, there's so many people that are clamoring for that match that I just don't know that the match could deliver on the people's expectations," says Taker.
The Undertaker doesn't feel that he could deliver on the hype anymore
The Undertaker isn't sure how the match would play out for him as a wrestler. He won't be able to deliver on the hype, and that's his biggest concern.
"And the only reason I say that I'll take full [responsibility], I don't have the mobility or the same skill set that I once did that I would need to make that match great. So there's just certain things, it's better left to the theater of the mind to actually put it out there."
The Undertaker admits that he physically will not be able to pull off certain moves. The absence of these would make the match bland and fail to meet the fans' expectations. He feels that the match would be better off in imagination only.
"And then with the expectations being so high and the match not delivering, it would be a bigger disappointment than the match never happening at all," says Taker
"It's different, but in the same sense of like who's the greatest: [Michael] Jordan or LeBron [James]? I mean, you're never going to know because they're never going to have the opportunity to play against each other."
"The Deadman" explains how he'd rather have the match not take place at all than it being a disappointment to the fans.
He compares his dream match against Sting to a similar scenario involving Michael Jordan and LeBron James, two all-time basketball greats.
ADVERTISEMENT
Article continues below this ad
He explains how that would be a match everyone would want to see. However, it would never happen, simply because there's no opportunity.
"And it's the same thing. That's a great match, but 10 years ago I think it could still happen and it could still be a stellar match. I'm just not sure at this point that it could deliver on the hype," concludes Taker.
The Undertaker is right about this in every way. Having a match of such a large scale would not deliver on the huge hype. At this point in his life, he wouldn't be able to do it, as he did ten or fifteen years ago.
ADVERTISEMENT
Article continues below this ad
"The Deadman" wants to retire with dignity and has one last ride left in him. All we can do is sit back and enjoy The Undertaker's journey to the end.