"You're an Olympic Gold Medalist Shut Up!"- The Undertaker Shares Hilarious Story About Kurt Angle
Published 06/20/2020, 12:15 PM EDT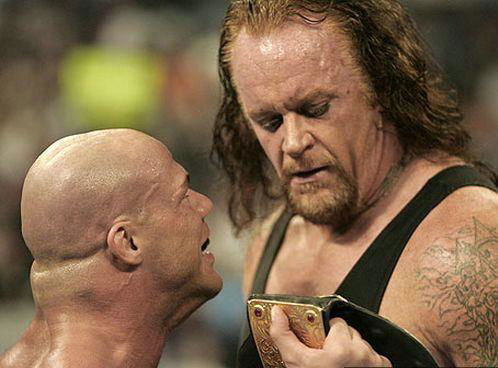 ---
---
WWE Superstar Undertaker recently sat down with Corey Graves on the After The Bell podcast and spoke about his career and life outside the WWE.
ADVERTISEMENT
Article continues below this ad
He also told a story about WWE Hall of Famer Kurt Angle, and how he was afraid to take his punch. The Undertaker was in a jovial mood and decided to embarrass one of his fellow superstars on the podcast.
"I had some classic matches with Kurt that don't get enough attention."
ADVERTISEMENT
Article continues below this ad
The Undertaker spoke about one particular match with the Olympian when Angle seemed hesitant about getting clocked by the deadman in the ring.
The Undertaker opens up about fighting Kurt Angle
"The first time I drawback to throw the big right hand at him, his face was like….like I was going to take his head off, right? It stopped me," Mark (the man behind the Undertaker) stated that he was taken aback by Kurt acting hesitant in the ring.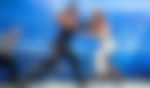 In pro wrestling, there always needs to be near-perfect chemistry between the fighters, to get a good fight. If that isn't present in the ring, it makes the performance uninteresting for the fans.
Hence, Undertaker was understandably annoyed at Angle's hesitation to being punched.
"I'm about to hit him after he's already waffled me three or four times in the ear. He's got this look on his face like I'm about to cave his head in and I just stop," said Taker.
ADVERTISEMENT
Article continues below this ad
The Undertaker stated that he could not punch his opponent in the ring if he was also not completely committed to the performance. He seemed very critical of Kurt here. "'Really, what are you doing?' 'IT'S GONNA HURT!' 'YOU'RE AN OLYMPIC GOLD MEDALIST. SHUT UP!"
Regardless of his timidness in the ring, Kurt has had a long and storied career in the WWE. Even after all the exchanges, Undertaker seemed to respect his fellow wrestler and Olympian, even though he understood that Kurt wasn't committed to going all-in with the match.
"He was one of my favorites, once he got over the fear of my punch, Kurt, bless his heart"
ADVERTISEMENT
Article continues below this ad