"You Were A Failure Where You Used to Work"- Sammy Guevara Roasts Shawn Spears on AEW Dynamite
Published 04/28/2021, 10:21 PM EDT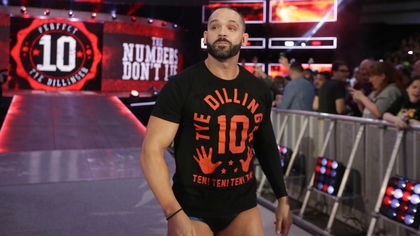 ---
---
The Pinnacle have become AEW's top faction within a matter of weeks. MJF, Shawn Spears, FTR and Wardlow might be the most dangerous men in AEW. However, one of their members got ripped apart by Sammy Guevara on the microphone, and it was a former WWE superstar.
ADVERTISEMENT
Article continues below this ad
Sammy Guevara roasts Shawn Spears
ADVERTISEMENT
Article continues below this ad
While his AEW run has been uninspiring, Shawn Spears didn't look like a million dollars when he left WWE. Formerly known as Tye Dillinger, Spears started off in NXT where his 'Perfect 10' gimmick became incredibly popular.
Unfortunately, his popularity didn't convert into success on the main roster, and WWE released him on March 1st. While he came to AEW and became a big deal instantly, his career remained mediocre. On this week's episode of Dynamite, Sammy Guevara reminded him of it.
"Spears, I don't believe you," said Sammy. "And simply why should I? Why should I man? Ever since you came into AEW, you've been a failure. And actually, Spears the more I think of it, you were a failure where you used to work too."
While Guevara left Spears red-faced and humiliated tonight, things might be different in a week. Spears could be the X-factor inside Blood and Guts and could really use a big win to launch him up the AEW rankings. As for Guevara, he might be in trouble against not one but three former WWE superstars.
Blood and Guts takes place next week
ADVERTISEMENT
Article continues below this ad
On May 5th, on a special episode of AEW Dynamite, two of AEW's most notorious and dangerous factions meet in an equally, if not more, dangerous environment. Two rings will be surrounded by a metal cage and ten men trying to beat the hell out of each other until only one team remains.
Blood and Guts is a rehash of the incredible WCW concept War Games. While NXT took the War Games concept and turned into a Takeover Special, AEW is also thinking of making it an annual thing. Last year's Blood and Guts morphed into Stadium Stampede because of the pandemic, but things will be different in 2021.
The Pinnacle and the Inner Circle will meet inside the vicious and unforgiving steel cage and battle to the death. Unlike in NXT, the cage will have a roof and bear striking resemblance to the original WCW version. According to Dave Meltzer, the match will have 'old school' rules with no pinfalls.
ADVERTISEMENT
Article continues below this ad