"Your Quads Look Thicc!"- Hilarious Conversation Between Kofi Kingston and Randy Orton During the Elimination Chamber Match
Published 02/21/2021, 9:55 PM EST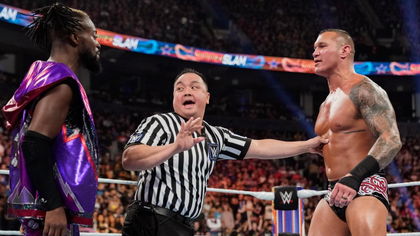 ---
---
The Elimination Chamber is a dangerous environment for a WWE superstar. Within this environment, it is tremendously difficult to provide comic relief. However, in the WWE Championship Elimination Chamber match, Kofi Kingston provided us with a moment of magic and a moment that made us laugh out loud.
ADVERTISEMENT
Article continues below this ad
Hilarious exchange between Kofi Kingston and Randy Orton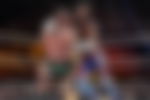 ADVERTISEMENT
Article continues below this ad
As Randy Orton entered the Elimination Chamber, Kofi Kingston gave him quite a mouthful, but it wasn't what you might expect. Kingston complimented the Viper on his quads.
Kofi was heard saying, "You slitherin' today! I see you flexin' your quads. They look thicc! You been doin' squats!"
Only Kofi Kingston can pull off something like this and then eliminate the Viper in shocking fashion.
Kofi gets one over the Viper
Randy Orton and Jeff Hardy kicked off the Elimination Chamber match, renewing their long rivalry. Hardy and Orton have now featured in back-to-back Chamber matches, along with AJ Styles. Hardy ran circles around the Viper, keeping him on his toes and avoiding the RKO.
Drew McIntyre was the next man to enter the match, and he made an instant impact. McIntyre slammed Hardy's face against Kofi Kingston's pod, causing another hilarious reaction from the former WWE Champion.
Kofi Kingston entered the match next and pulled off a huge upset. Kingston went right after his longtime rival Orton, who clubbed him down, but Kingston clipped the legs and rolled him up to eliminate him!
Sheamus ends the hopes for KofiMania 2.0
After a spirited performance inside the Elimination Chamber, Kofi met his eventual demise at the hands of Sheamus.
ADVERTISEMENT
Article continues below this ad
Before his elimination, Kofi got a bit of attention in this star-studded match. Kingston hit a beautiful monkey flip on AJ Styles, sending the Phenomenal One crashing into the chain link wall.
While he inflicted some damage, he also suffered a lot. Drew McIntyre lifted Kofi and hit him with a vicious looking vertical suplex into the wall and then sent him crashing to the floor.
After taking on Sheamus and hitting him with a pendulum kick in the corner, Kofi launched himself into the Celtic Warrior's arms. Sheamus flipped him over and then nailed him with a Brogue Kick for the elimination.
ADVERTISEMENT
Article continues below this ad