Everything You Need to Know About WrestleMania 37 Venue Raymond James Stadium
Published 04/05/2021, 8:15 AM EDT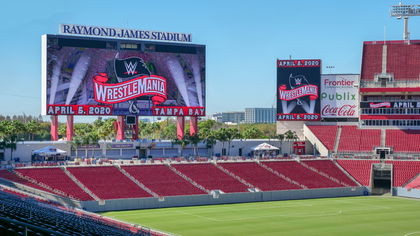 ---
---
WrestleMania 37 had a few hiccups regarding its venue owing to the pandemic situation. However, after a minor change, it is all set to kick off at the Raymond James Stadium located in Tampa, Florida. WWE will organize the event over two nights, on April 10 and April 11.
ADVERTISEMENT
Article continues below this ad
The stadium was first opened in 1998 and was a replacement for the Tampa Stadium. It was originally known as the Tampa Community Stadium; however, the naming rights were won by Raymond James Financial for $32.5 million. Gradual contract extensions led the company to hold the naming rights until 2028.
Home to WrestleMania 37
ADVERTISEMENT
Article continues below this ad
WWE originally selected the Raymond James Stadium as the venue for WrestleMania 36. However, WrestleMania 37 had to be shifted to the WWE Performance Center in Orlando because of the COVID-19 pandemic.
WrestleMania 37 was all set to be organized by the SoFi Stadium, Inglewood, California. However, rising COVID-19 cases brought forth immense uncertainty in terms of organizing it in California.
Meanwhile, Florida eased their restrictions and WWE pushed back the dates of WrestleMania 37. As a result, WWE decided that Raymond James Stadium will organize WrestleMania 37.
It is notable that WrestleMania 37 will allow in-ticket attendance for the first time since the pandemic. The 65618 seater stadium holds the capacity to extend its seating capacity to 75000. However, WWE is allowing only 25000 fans to be present in the stadium each night.
Home ground for other sports
Apart from its association with WWE, the Raymond James Stadium is home to the Tampa Bay Buccaneers of the NFL and the South Florida Bulls Football Team of the NCAA.
The Raymond James facility has been the venue for three Super Bowls. The first one was Super Bowl XXXV back in 2001, followed by Super Bowl XLIII in 2009. The last one took place this year in the form of Super Bowl LV.
It was a historic event as Tampa Bay Buccaneers were crowned the champions. The Tampa Bay Buccaneers became the first team in the history of the NFL to play and win a Super Bowl in their own home ground.
ADVERTISEMENT
Article continues below this ad Apart from NFL, the stadium was also home to the Tampa Bay Mutiny, who were a part of Major League Soccer. Other than this, various International soccer matches have been organized at the stadium.
The venue also serves as a major cultural point of interest as it hosts various concerts and other cultural performances. The largest attendance ever achieved in this facility was during a concert of U2, where 72000 people marked their presence.
ADVERTISEMENT
Article continues below this ad