Dexter Lumis Says "Yes!" as Indi Hartwell Proposes Him on WWE NXT!
Published 08/18/2021, 12:44 AM EDT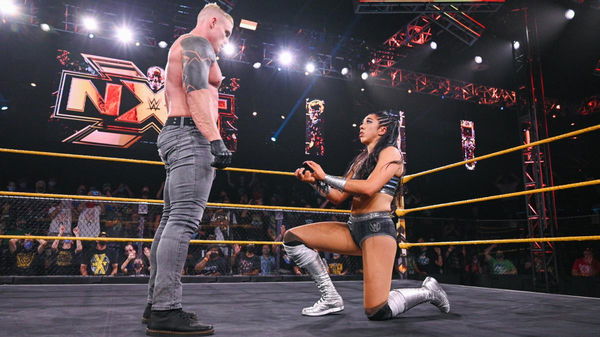 ---
---
NXT Superstar Indi Hartwell got the biggest surprise gift on her birthday. The go-home edition to NXT TakeOver 36 saw Hartwell getting engaged to Dexter Lumis on Live TV.
ADVERTISEMENT
Article continues below this ad
On Tuesday (8/17), "In-Dex" faced Jessi Kamea and Robert Stone. Ahead of the match, Harwell consulted with Candice LeRae and Johnny Gargano as she wanted to er relationship with Lumis to the 'next level.'
As usual, the couple did not agree with Hartwell. Nonetheless, Hartwell and Lumis walked out to face Jessi and Robert. Throughout the match, the NXT commentary team, especially Beth Phoenix was hyping up the chemistry between Lumis and Hartwell.
ADVERTISEMENT
Article continues below this ad
After a good fight, Hartwell applied The Silence submission on Kamea. While Lumis also did the same to Stone at ringside. Kamea tapped out for the finish.
However, this was not the best part of the match. Following the victory, Indi and Dexter both stared at each other until Hartwell backed away.
She went to the commentary table to retrieve something from Beth and came back to the ring. When she came back, Indi dropped on one knee, brought the ring (she retrieved it from Beth), and proposed to Dexter.
Lumis promptly said yes and the crowd erupted in a cheer. "In-dex" is finally engaged. Beth Phoenix seems to be the mentor of Indi, as her closest companions are shunning her and Lumis. Notably, Beth herself is married to the WWE Hall of Famer Edge.
Watch this story: Former WWE Superstars Who Are Thriving in AEW
Johnny Gargano and Candice LeRae are NOT happy about the India Hartwell and Dexter Lumis wedding!
By now, everyone knows that Gargano, LeRae, and Theory (while he was around) do not like the union of "In-dex." Following the event, WWE interviewed Gargano and LeRae for their "thoughts" on the wedding.
ADVERTISEMENT
Article continues below this ad
Gargano seemed frantic as he said he would technically be the father of the bride but he will not be paying for the wedding. Johnny also called Dexter a "cheapskate."
He theorized that Lumis or Hartwell should have asked Johnny ahead of their big plan as it was a "protocol"to ask the father.  While Johnny and Candice both appreciate "rebel hearts," but "this circumstance, this situation is not good." They were not sure if they are going to show up at the wedding as well.
ADVERTISEMENT
Article continues below this ad
WWE weddings generally have a bad name attached to them, as most of the time, they do not end in "holy matrimony." Let's see what the future (and the NXT creative team) has in store for "In-dex."