Nia Jax and Shayna Baszler Controversially Retain The Tag Team Championships on WWE NXT
Published 03/03/2021, 9:33 PM EST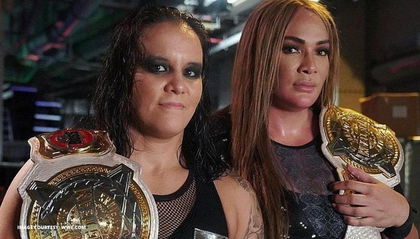 ---
---
After last week's challenge, WWE Women's Tag Team Champions, Nia Jax and Shayna Baszler, came down to NXT to take on the first-ever Dusty Rhodes Women's Tag Team Classic Tournament Winners Raquel Gonzalez and Dakota Kai.
ADVERTISEMENT
Article continues below this ad
Both teams did their level best inside the ring. Baszler started things off with Kai before tagging Jax in, who went for the running splash before Shayna took over again.
Kai tried to find an opening before Baszler regained control. However, following a failed Elbow Stomp, Kai got an opening and slapped Shayna for a huge pop.
ADVERTISEMENT
Article continues below this ad
After some more offense, Baszler sent Kai flying over the top rope. The two teams faced off at ringside before Baszler and a newly tagged Gonzalez came into the match.
Nia Jax and Shayna Baszler won the match in a controversial manner
While the offenses poured in, the champions focused on the injured leg of Raquel. Kai tried to make a difference in the match with a tag, but Jax and Baszler would not let her.
Gonzalez got into the match again as Baszler promptly applied the Kirifuda Clutch following some attacks. Raquel started fading but eventually made the tag to Kai.
Interestingly, Baszler did not see the tag being made. Gonzalez went in straight for Nia Jax. Jax pulled Kai out, hitting the referee in the process. Gonzalez and Jax fought outside the ring with the other two in the ring.
Gonzalez and Jax rolled over to the announce table for a huge pop. Inside the ring, Baszler applied the Kirifuda on Raquel again without realizing she was no longer 'legal.'
ADVERTISEMENT
Article continues below this ad
WWE official Adam Pearce ran in with a referee to continue the match. But the referee announced the match was over as Raquel Gonzalez passed out from the Clutch. After the bell, officials checked on Gonzalez and Jax near the announce table.
Baszler and Jax posed with the titles on the ramp as the challengers looked on. Considering the controversial ending of the match, the rivalry is far from over.
Do you think we will see a rematch soon? Let us know in the comments below.
ADVERTISEMENT
Article continues below this ad