The battle lines have been drawn between Adam Cole and Pat McAfee. WWE has paved the way for a historic inter-sports encounter and now it's up to the two pioneers of their respective sports to build towards this match.
In the age of Twitter, that's not really a big problem. In fact, social media is the primary arena of storyline development in modern pro-wrestling.
Up till this point, McAfee and Cole have used the medium to perfection. In another scathing retort towards the former NFL punter, Cole added another layer to their rivalry.
Read more – Pat McAfee Accepts Triple H's Challenge for NXT Takeover: XXX
He reminded him that he was the Floyd Mayweather here and McAfee was the Connor McGregor.
I am going to hurt this chump.

Then I'm going to make sure he stays out of pro wrestling forever. You aren't welcome, and you never will be. https://t.co/3SDPH2WUEn

— Adam Cole (@AdamColePro) August 8, 2020
Adam Cole adds new dimension to rivalry with Pat McAfee
Up till now, this feud was pretty much about avenging his pride for Adam Cole. The derogatory remarks passed towards him by McAfee were what fueled his will for revenge.
Now, he's trying to add another popular storyline angle. It's the classic wrestler vs outsider trope.
WWE has used this for years and has found immense success through this narrative. The 365 days a year professional wrestler is up against a popular celebrity who wants to start at the top without paying his dues.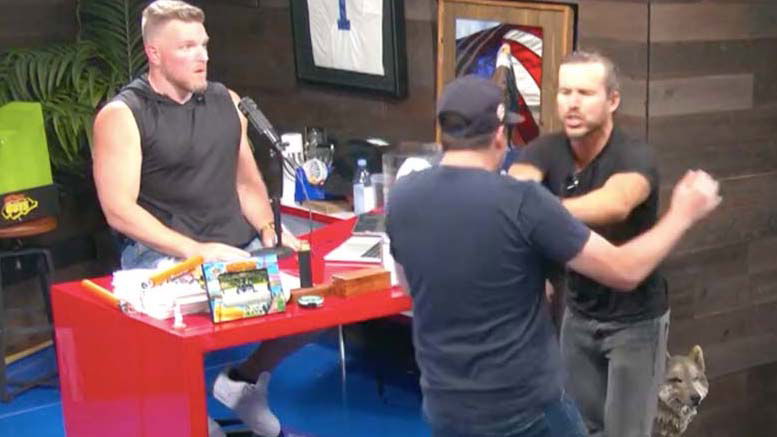 If the dynamic wasn't already in favour of Cole being a babyface, this pretty much solidifies it. Most importantly, this feud needs to have a watertight story with some awe-inspiring moments (like McAfee's punt kick last week).
That's because we don't know the in-ring acumen of McAfee yet. In fact, Cole might have to carry the match, which will sharpen the criticism from NXT fans for putting a non-wrestler in the ring with a seasoned technician.
However, if the story keeps us engaged, which it has until this point, then I don't see any reasons for complaining. NXT has given us more than its share of great wrestling matches and it deserves to try out a story that brings mainstream attention.
This seems to be the biggest weapon employed thus far by Triple H to win the Wednesday Night Wars against AEW.
SOURCE: Adam Cole Twitter