WWE NXT Recreates Iconic Shawn Michaels Moment with Johnny Gargano and Kushida
Published 02/10/2021, 9:54 PM EST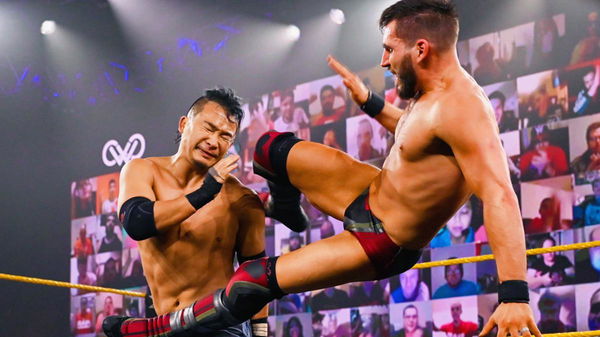 ---
---
On this week's WWE NXT (10.02.21), fans witnessed a hilarious segment between NXT North American Champion Johnny Gargano and his challenger Kushida. The black and gold brand recreated an iconic segment from WWE history.
ADVERTISEMENT
Article continues below this ad
The segment started with Gargano and his near and dear ones rolling him into the ring with a wheelchair. Gargano proclaimed he was on a wheelchair as Kushida broke his arm last week at William Regal's office.
Apparently, the champ had four fractures in his left arm. However, the crowd was not buying it, and a "Johnny Wheelchair" chant broke out.
ADVERTISEMENT
Article continues below this ad
Gargano went on and said he could not compete at the upcoming TakeOver, and Kushida must be suspended for his misconduct. Out came NXT General Manager William Regal, and he called Gargano out on the fake injury.
Apparently, the NXT medical team had already cleared him to compete. Yet, Gargano argued he had severe injuries and reports to prove so. He showed an X-Ray of his arm, broken in four pieces.
Regal asked Gargano the name of his broken bone, which he could not answer. Regal then proposed some solutions for the 'injured' Gargano. First was to have Austin Theory defend his title, and the second one was to forfeit his title.
WWE NXT recreates iconic Shawn Michaels and Bret Hart scene from RAW
After the talks of forfeiting the title, Gargano changed his mind and asked for some time to get better. Regal said whatever they did, they had to check with Kushida first.
Gargano retorted as he said Kushida was not even there. However, he appeared in the ring out of nowhere and attacked Theory. Kushida and Gargano then had a tug-of-war with the title, proving Gargano was fine.
Kushida then kicked Gargano, who stumbled backwards into, then out of, his wheelchair, recreating a similar scene where WWE Hall of Famer Shawn Michaels kicked Bret Hart on Monday Night Raw.
Michaels also reacted to the moment as he sent out a tweet.
ADVERTISEMENT
Article continues below this ad
The segment ended with The Way trying to hold Gargano as Kushida stood tall. What did you think of this segment on WWE NXT? Let us know in the comments below.
ADVERTISEMENT
Article continues below this ad