Alexa Bliss Crashes The Return of Triple H, Throws Fire at Randy Orton on RAW
Published 01/11/2021, 11:59 PM EST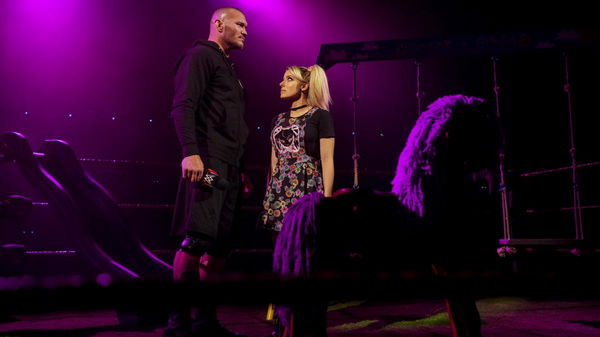 ---
---
The saga of Alexa Bliss, Bray Wyatt, and Randy Orton took a new turn for the absurd on tonight's Raw (January 11, 2021). In fact, WWE Icon Triple H was also caught in the crossfire of this paranormal confrontation!
ADVERTISEMENT
Article continues below this ad
Randy Orton faced Triple H in the main event of Raw tonight after the latter made his return earlier in the night. Suddenly, all the lights in the arena went out, signalling that a certain monster was lurking in the shadows.
Suddenly, Triple H's sledgehammer (which he retrieved from under the ring) caught fire! Both men were frozen with shock as the lights went out and the sledgehammer blazed like a firecracker.
ADVERTISEMENT
Article continues below this ad
When the light returned, many strange things happened simultaneously. Triple H was gone from the ring, a distorted remix of the Firefly Funhouse theme started playing and purple-pink lights came up. We were now in Alexa's Playground.
As Orton looked around, he saw Alexa Bliss standing there in mourning clothes. Both Bliss and Orton stared each other down.
Suddenly, Bliss shot a fireball at Orton out of nowhere. 'The Viper' screamed in pain, dropping to the mat. Orton tried to get back to his feet but stumbled again.
The show ended in a cliffhanger as it went off the air with Orton screaming in the background.
 

View this post on Instagram

 
The Fiend will return with the help of Alexa Bliss to face Randy Orton
After Alexa crashed Triple H's massive return to deliver her 'message', it is imperative that the Fiend will return. The appearance was also a not-so-gentle reminder to Randy Orton that he would face consequences of his devilish actions.
ADVERTISEMENT
Article continues below this ad
Earlier, Orton had pretended to burn Alexa alive when he lit a match above a gasoline-clad Bliss. However, he later revealed he could not do it.
The supernatural powers of Bliss allowed her to turn the ThunderDome into 'Alexa's playground.' It was made obvious that no matter where Randy goes or who he faces, Bliss and Fiend will always be after him until they get their revenge.
ADVERTISEMENT
Article continues below this ad
Do you think Fiend will return at Royal Rumble 2021 against Orton? What would be his new persona? Let us know in the comments below.