Bobby Lashley Compares Goldberg to "A Rabid Animal" on WWE Raw
Published 10/11/2021, 10:15 PM EDT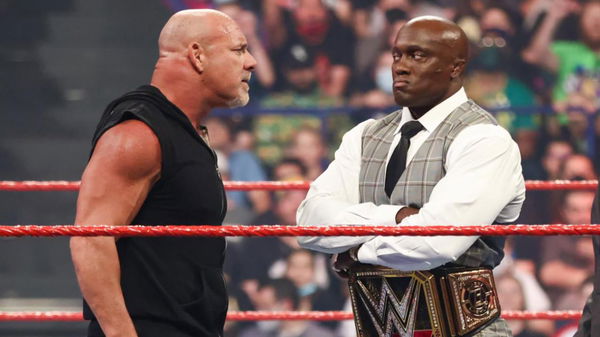 ---
---
Former WWE Champion Bobby Lashley hasn't had the best of lucks ever since he lost his championship to Big E. 'The All Mighty' made a mistake by laying his hands on Goldberg's son at SummerSlam earlier this year.
ADVERTISEMENT
Article continues below this ad
The WWE Hall of Famer came out last week and challenged Lashley to a fight. Now Bobby Lashley isn't one of those to step away from a fight, so he gave what Goldberg wanted.
Lashley agreed to face Goldberg at Crown Jewel in a "No Holds Barred" matchup. However, the stipulation only excited the Hall of Famer to the point where he planned something so sinister that no one expected. Goldberg threatened to literally kill Bobby Lashley at Crown Jewel.
ADVERTISEMENT
Article continues below this ad
This week on Raw, The All Mighty addressed Goldberg's last week's statements. Lashley declared that this kind of behavior was not fitting for a WWE Hall of Famer. He said,
"You know a lot of people ask me why I decided to challenge Goldberg to a No Holds Barred Match? Before I answer that question, did you see him standing in the middle of this ring and talk about ending my life?
"Goldberg said verbatim, I'm not only next, but that No Holds Barred gives him a license to kill, and that I am dead. This kind of behavior is not befitting of a WWE superstar, not befitting of a Hall of Famer, and more so, it's not behavior befitting of a father, which Goldberg claims to be."
Continuing the insults, Lashley asked the audience whom they would prefer. A man who dresses like a million bucks every week? A man who has defended the WWE Championship the entire year? Or a man who came in with cut-off sleeves on, frothing at the mouth screaming about murder?
Bobby Lashley calls Goldberg "a rabid animal"
It was because of actions and words like "murder" were why The All Mighty challenged Goldberg to a No Holds Barred Match. "Because I can't go into a match, into a fight with a man that is screaming, frothing at the mouth, acting crazy like some kind of rabid animal."
ADVERTISEMENT
Article continues below this ad
Lashley declared that "The Icon" of Goldberg has been reduced to nothing but a rabid dog. Although the Hall of Famer still has a strong bite for sure, but somebody needs to put him down. And that's exactly what Lashley promised to do at Crown Jewel where anything goes, and there're no holds barred.
In the end, the former WWE champion declared that Goldberg can neither hurt nor beat and damn sure can't kill The All-Mighty.
ADVERTISEMENT
Article continues below this ad