Can AJ Styles' Bodyguard Omos Wrestle? The New Day Questions Its Wrestlemania 37 Opponent
Published 04/06/2021, 7:32 AM EDT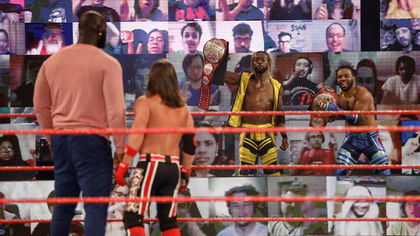 ---
---
RAW Tag Team Champions The New Day will take on AJ Styles and his bodyguard-turned-tag partner Omos at WrestleMania. Following the go-home edition of RAW, the New Day expressed some concerns over their challengers.
ADVERTISEMENT
Article continues below this ad
On RAW last night (4/5/21), Xavier Woods took on AJ Styles in a rematch of their last RAW bout. However, this time, Woods got the swift victory following a distraction from Kofi Kingston. Omos and Styles were left dumbfounded as the New Day celebrated.
After the victory, WWE caught up with the Tag Team champions backstage. The interviewer asked them how they are planning to keep the "momentum going in WrestleMania."
ADVERTISEMENT
Article continues below this ad
Xavier Woods said these questions are not new to the New Day. However, he knows how to combat these "insightful" questions.
"Our opponents watch these things because they want to get an insight into what goes on the New Day's mind. That's why we ramble for minutes upon minutes."
The New Day is focused on their matches and delivery, and that was the reason they got two back-to-back victories on Omos and Styles. But they have never seen the giant fight. Although he is big, "he ain't got no cut. He's always wearing these mauve sweaters, we can't tell."
The New Day questions Omos on his in-ring ability
Kofi Kingston also chimed in on the conversation, saying how no one knows what is under the "sweaters." He asked, "Is there a wrestler there? Is it a WWE superstar? I don't know. I have never seen him perform in the ring."
The New day also theorized Omos could just be "three small children stacked up high. Shoulders on shoulders on shoulders." They said anyone can come in and beat people up following a match but is Omos "ring-savvy."
Kofi said he does not even know if Omos could pin someone.
ADVERTISEMENT
Article continues below this ad
No one knows what Omos is capable of. Hence, The New Day will "keep on doing what they are doing." They are prepared for this moment for quite some time.
"We don't need no luck. I appreciate you but get that luck to someone else because we have skill and talent," Kofi said. Woods shouted out, "luck is the intersection of skill and opportunity" to close the segment.
Reiterating Kofi's statement, no one knows what Omos is capable of. He could be a crucial instrument in the match, thanks to his size and strength.
ADVERTISEMENT
Article continues below this ad