"Congrats, Kid" – Riddle Details Latest Meeting With Goldberg at WWE RAW
Published 08/29/2021, 11:45 AM EDT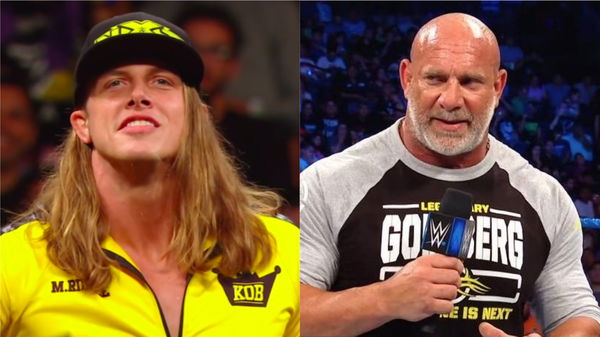 ---
---
Goldberg and Riddle have had a tumultuous relationship over the past year. However, now both of them have winded up in the RAW locker room and Riddle is one-half of the RAW Tag Team Champion.
ADVERTISEMENT
Article continues below this ad
But nothing controversial here, yet. According to 'The Original Bro,' both men have buried the hatchet long ago. In a recent interview with Ariel Helwani, Riddle chronicled his interaction with Goldberg.
"When he first came back, I was waiting, I was in position. I knew what was probably gonna happen. But I put myself there. I wanted to ease the tension slightly." Riddle said. He did not want Goldberg to think they will have a fight whenever he showed up in WWE.
ADVERTISEMENT
Article continues below this ad
"He saw me, he's shaking some hands, and then he comes up to me and he gave me a funny look," Riddle said. "He turned his head to the side and then shook my hand and said, 'Hey, Congrats kid', and I was like, 'Oh thanks. Go kill it out there.'"
Then Goldberg cut a promo on Bobby Lashley. When he came back, Riddle congratulated him, and the two shared a funny moment. "You know the guy has got an aura, and I have respect for him. We might disagree on a couple of things, but it is what it is," Riddle concluded.
Watch this story: CM Punk, Brock Lesnar, And More: Shocking Debuts And Returns From WWE And AEW
Riddle reacted to Goldberg's comments about him
Previously both superstars have criticized the other. Recently Goldberg called Riddle a "pr*ck" but still acknowledged his passion for the game. Riddle took notice of this and let this one go.
ADVERTISEMENT
Article continues below this ad
"He said he might not like me as a person, which I completely understand," Riddle said. "I don't think we'll ever- and I might be wrong, we might go out for drinks one day, but I doubt me and Goldberg are probably ever gonna break bread like that but maybe one day."
"He brings something to the table that I don't bring and it's different. I think we both respect each other at that level." he said. They both wrestled at WWE SummerSlam.
ADVERTISEMENT
Article continues below this ad
Riddle and Randy Orton won their first Tag Team Championships at the event. But Goldberg lost to Bobby Lashley in his pursuit of the WWE Championship. We are yet to see if Goldberg comes back anytime soon.