Drew McIntyre and Alexa Bliss Will Have Uninvited Guests on WWE Raw
Published 11/09/2020, 10:43 AM EST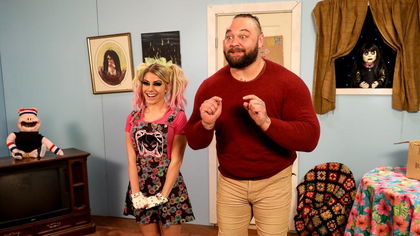 ---
---
As announced earlier by WWE, Alexa Bliss will be hosting former WWE Champion Drew McIntyre on "A Moment Of Bliss." Ever since the announcement, there has been speculation about this segment's direction.
ADVERTISEMENT
Article continues below this ad
Last week, we saw Alexa Bliss interrupting WWE Champion Randy Orton's promo at the beginning of the show. Later, in a very creepy and mysterious episode of The Firefly Funhouse, Bliss showed her most devilish side yet.
What Can We Expect?
ADVERTISEMENT
Article continues below this ad
Drew McIntyre is laser-focused on winning back his WWE Championship, but it is not just the champion Randy Orton that stands in his way. The Fiend lurks behind as well. 
Drew McIntyre made a sarcastic tweet before his appearance on "A Moment Of Bliss."
"I'm expecting this to be a perfectly normal sit down 10 minute interview. No shenanigans. A nice easy night…. #WWERaw", tweeted McIntyre. 
Alexa Bliss had a creepy response to this.
The Fiend does not forget, and he surely has not forgotten what Randy Orton did three years ago. The only thing between him and Randy is a strongly determined Drew McIntyre, who has his sight set on winning back the gold.
The Fiend wants to deliver a message to Drew McIntyre, and an attack on The Scottish Superstar would not only bring the rumored and obvious triple-threat involving Orton, McIntyre, and The Fiend into fruition but also serve as a warning to Orton. If not an attack, we could very well expect to see these two behemoths going face to face.
Will Randy Orton Get The Better Of Drew McIntyre Again?
ADVERTISEMENT
Article continues below this ad
If The Fiend doesn't lay hands on McIntyre, then the "Legend" would surely love to. Orton is called "The Viper" for a reason. He is well known to strike outta nowhere.
With Orton getting the last laugh on McIntyre last week, the chances are low that the WWE Champion would go after the challenger, especially in a setting that screams of The Fiend's presence. After all, we all know how Randy Orton carefully avoided The Fiend two weeks ago on RAW.
WWE's creative plans change every second of the hour, so it will be exciting to see how the segment turns out in reality. With Alexa Bliss and Drew McIntyre in the same ring at the same time, it surely wouldn't be a blissful moment for somebody.
ADVERTISEMENT
Article continues below this ad