"Drew Beat Brock in Like No Time" – Bobby Lashley Calls Drew McIntyre the Best Superstar in WWE Right Now
Published 02/28/2021, 7:24 AM EST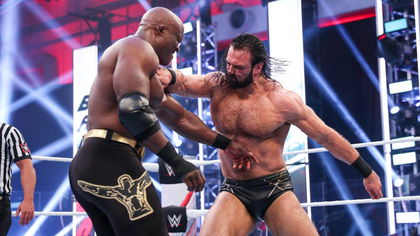 ---
---
Former United States Champion, Bobby Lashley, will take on The Miz on Monday for the WWE Championship. However, even before winning the title, Lashley made some bold claims.
ADVERTISEMENT
Article continues below this ad
In a media call ahead of the much-awaited bout, Bobby Lashley revealed he is proud of his current WWE run. He even named the top Superstar on the RAW roster today.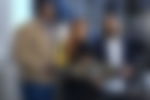 "I always tell people I love and enjoy every single thing I've done in WWE," Lashley revealed. "Everything is a journey. My journey was of course a little different since coming back.
ADVERTISEMENT
Article continues below this ad
"But I look back at it and you know what it just shows that I'm willing to pay the dues and shows that I'm in there for the shows and it shows there that I'm ready for my time."
Bobby Lashley wants to face Drew McIntyre next
Everyone knows about his willingness to face Brock Lesnar in a match. Lashley also recognizes it, but he wants to take on the former WWE Champion first.
"As far as Brock, Brock is one person but how I look at it is Drew beat Brock in, like, no time," Lashley said. "So, of course, my sights were set on Brock for some time but, as I said, Drew is the man, Drew is the one that beat him, Drew beat, Goldberg."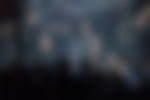 "Of course, Brock is that kind of mystery match, dream match that everybody has wanted us to have for some time now, but right now, I'm looking to be the best, and right now the best is Drew. Drew is the top guy. If I beat Miz, or when I beat Miz, I think Drew is the guy."
Drew McIntyre was absent on the last Raw following his loss to The Miz. Next week, Bobby Lashley will take on The Miz due to "prior arrangements."
As we mentioned earlier, Lashley is confident about his win over the "A-Lister." Now that Lesnar has left WWE, Lashley vs McIntyre seems like a good and plausible idea.
ADVERTISEMENT
Article continues below this ad
Maybe, we will get a triple-threat match at WreslteMnaia if Lashley wins the title.
What do you think of Lashley's comments on McIntyre? Do you think we will get a triple-threat match at WrestleMania? Let us know in the comments below.
ADVERTISEMENT
Article continues below this ad