WWE Fans Frustrated With the Identity Reveal of Retribution on RAW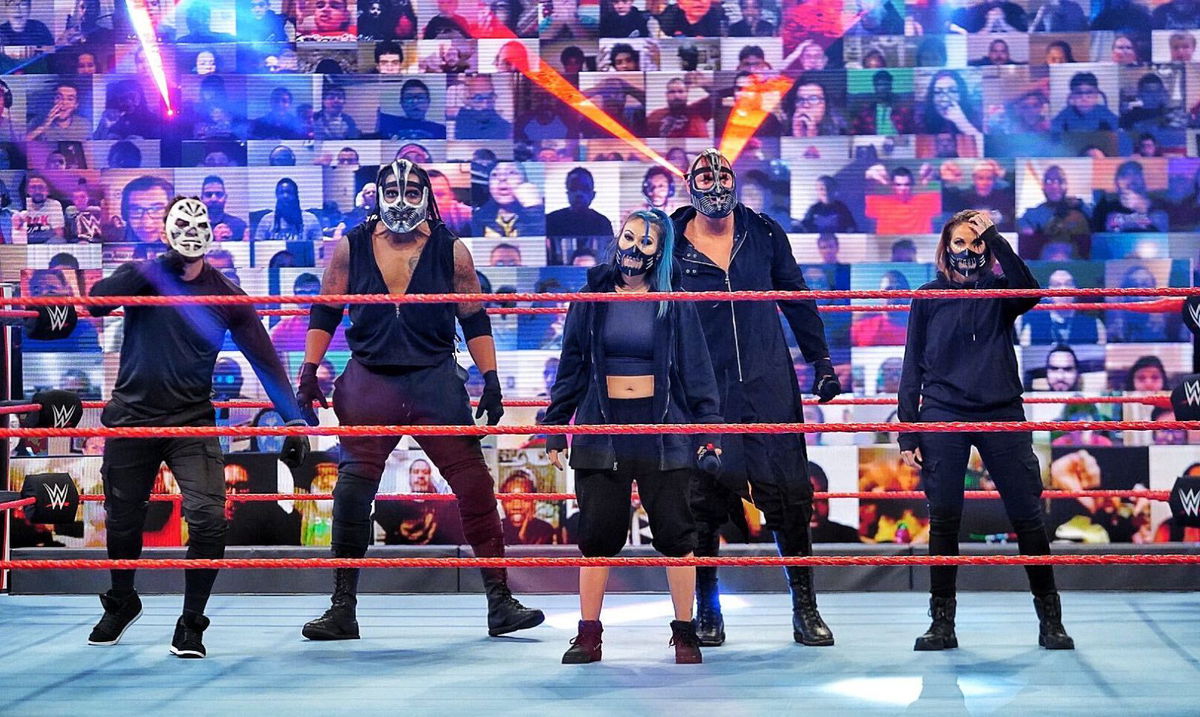 Monday Night Raw kicked off with a statement from The Retribution. The mysterious group had their faces half-covered and weren't interested in hiding their identities.
#WWERaw is #RETRIBUTION.

LIVE RIGHT NOW on @USA_Network! pic.twitter.com/NbGkL3ls0z

— WWE (@WWE) September 22, 2020
Retribution are now members of the WWE main roster. We could clearly identify the five members standing in the ring; they were Dominik Dijakovic, Mia Yim, Mercedes Martinez, and Dio Maddin. The fifth member of the group could be Shane Thorne but WWE might throw a surprise at the last moment.
#RETRIBUTION has spoken on #WWERaw. pic.twitter.com/aKMKxThhSG

— WWE (@WWE) September 22, 2020
The Hurt Business soon interrupted them. However, 8-10 more members surrounded MVP's crew and took them out.
Definitely, there will be more revelations in the coming days. However, it looks like these five above-mentioned members will be the face of the group.
WWE Universe make their feelings known over The Retribution identities being revealed
Check out the reactions from the WWE Universe.
Yeah, I'll comeback and watch Raw after this segment….

— kandicejianli (@kandicejianli89) September 22, 2020
Man this gimmick sucks

— N o a h (@BlightLight) September 22, 2020
— cam (@camjxm) September 22, 2020
When is this going to end? This is so boring 😴

— Tori Ravenscraft (@lista4448) September 22, 2020
can't believe the one day i'm not watching is when they reveal retribution pic.twitter.com/pAEvovUh9V

— 𝑨𝒔𝒉𝒍𝒆𝒚 (@REIGNONROLLINS) September 22, 2020
I'm getting so fucking tired of this whole retribution shit. Get this shit over with, it shouldn't have been a thing in the first place

— #BLACKLIVESMATTER (@Kabory10) September 22, 2020
#WWERaw This "Retribution" schtick is only beaten for worst idea by the Gobbledygooker. You are losing to @AEWrestling and grasping for straws, and failing.

— michael crespo (@crespoms48) September 22, 2020
Retribution is basically just everyone that was in the crowd during the COVID era and now they're mad because they have been replaced by the ThunderDome. #WWERaw pic.twitter.com/nUx3y7NH06

— Fiending For Followers ‼️ (@Fiend4Follows) September 22, 2020
They are

Who we thought they were …

(Although I didn't expect Bane 😂) pic.twitter.com/WVjqBLPYPI

— The Insiders (@InsidersWP) September 22, 2020
I can't wait till Retribution become a regular thing, so they have to start wearing the Connors cure pins and T-shirts……

— Jon Draper (@iamjondraper) September 22, 2020
Also Read: Who is Mia Yim and Why Did She Join The Retribution?