Fans Lash Out at WWE after Major Botch in Mickie James-Asuka Match
Published 09/14/2020, 10:28 PM EDT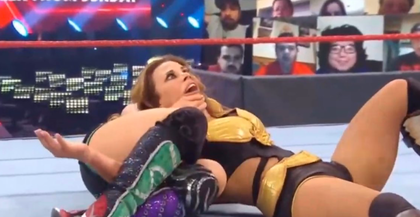 ---
---
There are many moments in history where you wished you would've been at Bret Hart's sport – the man had a legendary career. However, the fateful night of 1997 in Montreal is definitely not one of those. Unfortunately for Mickie James, she faced an eerily similar incident on tonight's Raw.
ADVERTISEMENT
Article continues below this ad
She was battling Asuka in a Raw Women's Championship match. Both women had displayed some tactically proficient moves and we were racing towards an intriguing climax.
However, the referee did a grave error at this point. While Asuka had James locked into her signature Asuka lock, Mickie managed to roll out of it and almost converted it into a pin with Asuka's shoulders down.
ADVERTISEMENT
Article continues below this ad
Shockingly enough, the referee called the match off at that point. In his judgement, Mickie could no longer continue. However, there was no explanation given whatsoever.
Neither the referee, nor the announcer or commentators had any idea of what happened. On her part, Mickie quietly rolled out of the ring. This all but confirmed that a major botch had taken place.
WWE Universe irate at lazy botch in Mickie James match
Whenever you commit a faux pas on that level, you need to be ready for massive fan backlash. That's exactly what happened as the WWE Universe was all over the company.
I've watched this back and I have ZERO IDEA of what the referee saw here on #WWERAW

Mickie James looks confused, Asuka looks confused, even the referee looks confused by HIS OWN DECISION.

Turn it into a storyline cause this was awful. Such a shame. pic.twitter.com/G20y23AOZH

— WrestleNews365 (@365Wrestle) September 15, 2020
WWE has only one way to salvage this situation – concert this into a storyline. There's no other way that they'll be able to explain that ending.
The storyline should push the disillusionment that Mickie has constantly been feeling with WWE management. She can even be linked to Retribution in the future if WWE play their cards right.
One thing that we all really wish for is that Mickie gets a positive direction from this point forward. Her position on the roster is not really in consonance with her level of talent.
The ending of the match today was another disappointment for a very worthy Superstar.
Let's hope that this is the start of a long and well-written feud with Asuka.
ADVERTISEMENT
Article continues below this ad
WATCH – Major Botch Costs Mickie James WWE Women's Title On Raw
ADVERTISEMENT
Article continues below this ad