Finally! Seth Rollins' Monday Night Messiah Reign Comes to an End
Published 10/05/2020, 10:47 PM EDT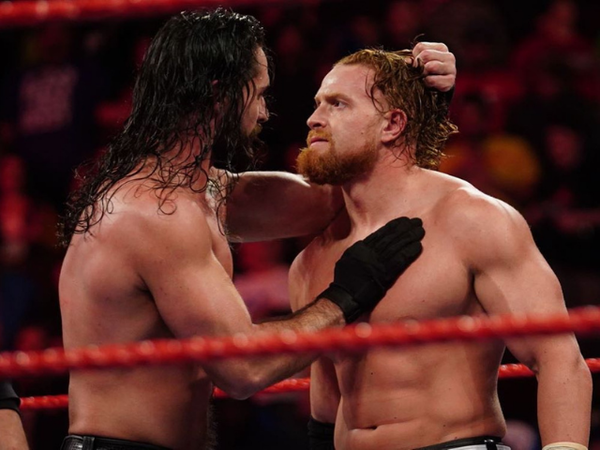 ---
---
Seth Rollins and Buddy Murphy have been one of the most dominant units on WWE Raw in the past few months. Unfortunately, Rollins crossed a line when he revealed the chats between Murphy and Aaliyah Mysterio to the entire Mysterio family. Since then, Murphy has shown serious resentment towards Rollins.
ADVERTISEMENT
Article continues below this ad
On the latest episode of Monday Night Raw, Buddy Murphy finally took a stand for himself. He refused to pass the mic to Rollins and called him out for his recent actions.
ADVERTISEMENT
Article continues below this ad
Seth Rollins and Murphy went back inside the ring later in the night. The Monday Night Messiah demanded that Murphy apologize to him for his actions. It reached a point when Rollins claimed that he made Murphy what he is today and can just so easily destroy him.
That's where Seth Rollins crossed the line. Instead of apologizing, Murphy caught Rollins off-guard and viciously attacked him. Rollins didn't hold back either and retaliated with all his might. Post that, Murphy attacked Seth Rollins with the kendo stick, beating him black and blue.
The Monday Night Messiah immediately began apologizing. In fact, he begged Aaliyah Mysterio to ask Murphy to not attack him further. Just when Murphy let his guard down, Rollins took over and beat him up with the same kendo stick. Additionally, Seth Rollins brought a chair to the ring, but by then, Aaliyah Mysterio had come to Murphy's rescue. Rollins walked away with a sly smile.
Following this, the entire Mysterio family came to the ring, taken aback by Aaliyah's reaction. They coaxed her backstage while Seth Rollins watched on the television. Buddy Murphy was left in the ring, fluttering in pain.
Seth Rollins-Buddy Murphy alliance may have met its end
There is no doubt now that WWE is capitalizing on the romantic angle between Murphy and Aaliyah. While yes, the company has received backlash from the audience due to the age difference between the two, WWE has not backed away from this angle.
ADVERTISEMENT
Article continues below this ad
On the other hand, this Monday Night Raw episode may have marked the end of the Seth Rollins-Murphy alliance as the WWE universe knows it.
ADVERTISEMENT
Article continues below this ad
Read Next: "This isn't Over Until I say it's Over" – Randy Orton has a Scary Challenge for Drew McIntyre