Huge Botch on WWE RAW! Matt Riddle Forgets His Lines During a Segment With Asuka, WWE Universe Reacts
Published 03/30/2021, 2:11 AM EDT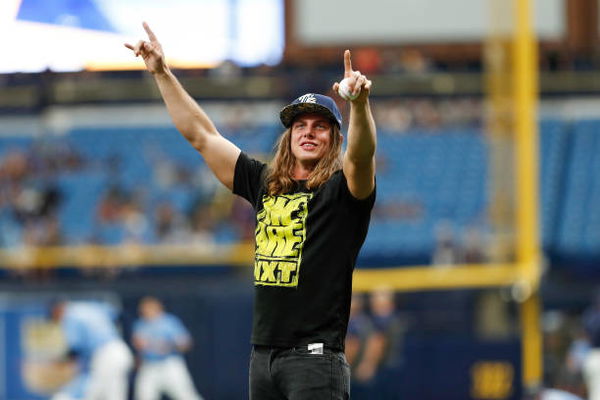 ---
---
WWE United States Champion Matt Riddle is in a world of his own. The 'Ultimate Bro' plays a very chilled-out gimmick on TV, which often gets compared to a 'high' character. On the last RAW (29/3/21), Riddle botched his lines on-screen.
ADVERTISEMENT
Article continues below this ad
In the backstage area, Riddle often runs around in his scooter and offers business ideas or greetings to his co-workers. In one such segment on RAW, Riddle ran into WWE Raw Women's Champion Asuka.
They exchanged greetings and Riddle asked her if people in Japan (Asuka's native country) like scooters. After Asuka gave a positive affirmation, Riddle just broke his character.
ADVERTISEMENT
Article continues below this ad
"I'm sorry, I forgot what I was saying," he laughed and walked away.
This left the Women's Champion in visible confusion as she tried to laugh off the interaction awkwardly. See the clip below –
Fans react to Matt Riddle on RAW
Following the botch, the WWE Universe started laughing it off. Many fans compared the botch to Sycho Sid's on-air botch in the '90s. The Sid botch is often ridiculed, even in AEW.
Many believed the botch fit in with his character, who is forgetful by nature. Hence, the botch and Asuka's confused reaction is also justified. Check some of the Twitter reactions below –
Matt Riddle is so high he just forgot his promo. Jesus that was hilarious 🤣🤣🤣 #WWERaw is such a hilarious disaster sometimes…

— That Guy (@Whothefookisth3) March 30, 2021
LOOOOOOOL Matt Riddle not realizing the promo was live. Sid Vicious Botchamania moment. Gotta love it. #WWERaw

— Not Banned From This Site (@THEDavidMarcus) March 30, 2021
Matt riddle straight up broke the 4th wall and stood in character at the same time lmao #WWERaw

— Jonathan Capone (@HS10SAI) March 30, 2021
Matt Riddle actually forgot his lines and peaced out mid-segment. 🤣🤣

A perfect representation of this episode of RAW. #WWERAW #RAW @WWE

— Just Alyx (@JustAlyxCentral) March 30, 2021
This is probably the hardest WWE has made me laugh. God bless riddle.

— Catturd (@Catturd0) March 30, 2021
We're live, pal. 😂😂

— Brock Lesnar Guy (@BrockLesnarGuy) March 30, 2021
The US Champ has not addressed the botch on his social media. Unfortunately, this was not the first time Riddle delivered a botch.
WWE Chairman Vince McMahon may not be too happy with the botch, and Riddle could get fined. However, it is highly unlikely he would get suspended.
He is known for his controversial remarks. He once criticized The Undertaker for calling the current WWE product soft. To this, Booker T rebuked Riddle on his podcast.
"You know how you should answer those questions and how you should deflect." Before blasting him, Booker T defended Riddle's comments. "That might be what's happening with someone like Riddle because a lot of times, you know, with these dirt sheets and these so-called reporters asking someone questions, they're looking for click-bait."
ADVERTISEMENT
Article continues below this ad
Riddle will defend his United States Championship against Sheamus at WrestleMania 37. On the other hand, RAW Women's Champion Asuka will face Rhea Ripley. Both of these matches are scheduled for the second night of WrestleMania.
ADVERTISEMENT
Article continues below this ad