John Morrison Hints at The Miz's Return as A Zombie on WWE RAW
Published 05/18/2021, 2:30 AM EDT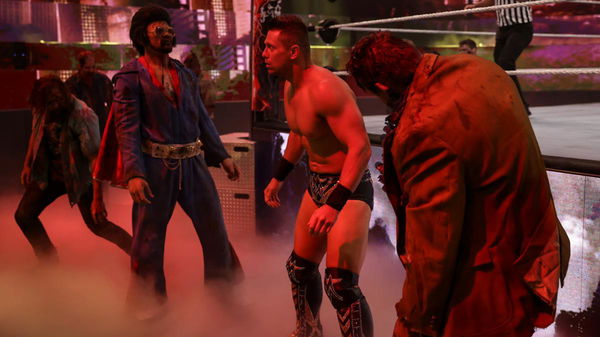 ---
---
At WrestleMania Backlash on Sunday, The Miz got to live his own Zombie Apocalypse. In the scheduled Lumberjack match against Damian Priest, the Lumberjacks turned out to be an army of the dead.
ADVERTISEMENT
Article continues below this ad
In the end, Priest defeated The Miz, and the Zombies ambushed the loser. While many theorized the match was a stunt to promote former WWE Superstar Batista's new movie, 'Army of the Dead,' the star hinted it was solely Vince McMahon's idea.
Wtf you telling me?!! You think I booked a bunch of fucking zombies. I'm on a damn plane! Shouldn't you be tweeting Vince?! 🤷🏻‍♂️ https://t.co/Eb8wNdijRI

— The Artist Formerly Known as Super Duper Dave (@DaveBautista) May 17, 2021
ADVERTISEMENT
Article continues below this ad
Many fans speculated how The Miz might be 'dead,' after the attack. On tonight's RAW, his tag team partner, John Morrison, revealed the 'Must-See' superstar's current status.
Ahead of his match with Damian Priest, Morrison said he dedicated the match in his best friend's memory, indicating his demise at the Zombie Apocalypse.
Johny Drip Drip also said he could not explain what happened to The Miz as something seemed "rotting inside his brain." The Miz might never be the same again, and hence the dedication. Morrison concluded with how much he loved The Miz, no matter where he was.
What is in store for The Miz on WWE RAW?
The "must-see" superstar might not be seen in WWE for a while. Even the superstar kind of confirmed his condition via Twitter. He posted a photoshopped picture of the 'Undead Miz.'
The Miz's new season of "Miz and Mrs" ended on Monday. WWE apparently does not have any plans regarding the former World Champion's future.
Former WWE Superstar Chris Jericho criticized WWE over their Zombie match. Right after the event, Jericho said, "Zombies…ZOMBIES? Wow, that just set wrestling back 30 years."
Zombies…ZOMBIES? Wow that just set wrestling back 30 years.

— Chris Jericho (@IAmJericho) May 17, 2021
It is interesting to see how John Morrison is doing alright, despite suffering Zombie Attack himself. He had a 'normal' Lumberjack match on Monday Night RAW.
Priest defeated Morrison with a hurricanrana and 'Hit The Lights.' The match featured the RAW Locker room as the Lumberjack who took active participation.
ADVERTISEMENT
Article continues below this ad
Maybe the fans would see some changes in Morrison over the weeks. The Miz can make a comeback as the Zombie and be cured or he could come back normally with a new gimmick, following a 'treatment.' It is likely that The Miz would be taking a break for a while.
What are your takes on the situation? Do you think The Miz would be back? Let us know in the comments below.
ADVERTISEMENT
Article continues below this ad