Mustafa Ali is the Leader of Retribution
Published 10/05/2020, 11:27 PM EDT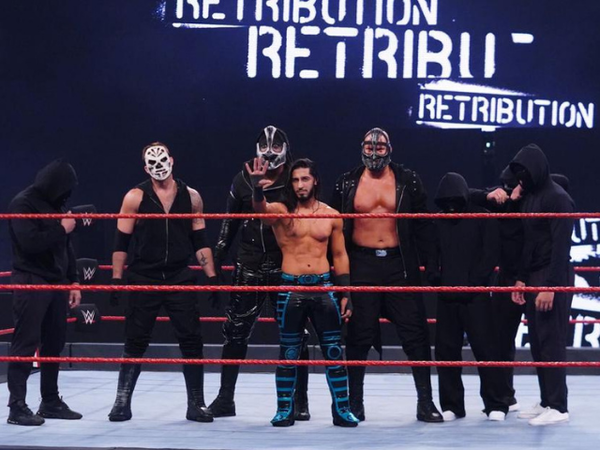 Retribution has caused havoc in WWE for the past few weeks. Now, even though the members revealed themselves, everybody had a hunch that one member is yet to make an appearance. Well, it's here. Mustafa Ali was revealed as a Retribution member and fans are shocked to their core.
ADVERTISEMENT
Article continues below this ad
In fact, he's not just a part of Retribution, but the leader of the faction! On the latest episode of Monday Night Raw, Retribution's members arrived on the ramp when Mustafa Ali was in the ring with The Hurt Business. As soon as Ali laid eyes on the vigilante group, he rushed to confront them. The Hurt Business seemed quite impressed with that.
ADVERTISEMENT
Article continues below this ad
However, their admiration soon turned to shock when Mustafa Ali turned around to reveal the smirk on his face and his position within the faction.
The interesting thing is that there were many who predicted that Ali may have a role to play in the faction. The idea was dropped when he did not make an appearance alongside the others when the members first revealed themselves.
Mustafa Ali knows the sinners of the company
Going back to the past, Mustafa Ali was once accused of being the SmackDown hacker. If that is the case, he must know several details of various dealings that go on within the company.
Retribution's motto is to make all the sinners pay. Hence, Ali being the leader of this faction makes complete sense. He knows who the sinners are and he will make sure they pay for their doings.
ADVERTISEMENT
Article continues below this ad
This interesting turn in the Retribution storyline will get the fans much more invested. The storyline was pushed to the back seat after the members revealed themselves. Ali's arrival to the scene comes as a blessing in disguise. WWE is set to face a storm and Ali will be at the center of it.
ADVERTISEMENT
Article continues below this ad
Read Next: "That's What Friends Are for"- Bray Wyatt Warns Kevin Owens in a Chilling Segment