Randy Orton's Wife Kim Orton Sends a Warning To Alexa Bliss Following Fastlane 2021
Published 03/22/2021, 7:45 AM EDT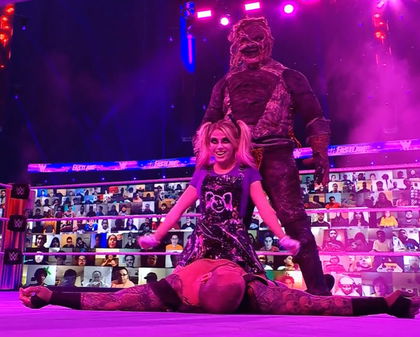 ---
---
The Fiend made a shocking return in the match between Randy Orton and Alexa Bliss at Fastlane 2021. While the 'eater of worlds' completely toyed with Orton's mind and body, he has seemingly built a new enemy in Randy Orton's wife Kim Orton!
ADVERTISEMENT
Article continues below this ad
Following Fastlane and her husband's disappointing defeat by the joined forces of Bliss and Fiend, Kim Marie issued a warning. However, she directed the warning only towards Bliss and not the Fiend.
The Fiend, who appeared amidst the smoke and fire at Fastlane, made his first appearance in WWE since December. Back then, Orton 'burned alive' the Fiend at TLC 2020.
ADVERTISEMENT
Article continues below this ad
Kim Marie told Bliss in the tweet, "@AlexaBliss_WWE you might've just f**ed up, little girl."
Whatever happened to Orton at Fastlane must be equally traumatizing for Kim as well.
The new and resurrected Fiend had a charred looked. With his mask, hair, and visible parts of the body looking burnt, the site of The Fiend was like a nightmare.
Before Orton could wake up from his personal hell, Wyatt connected with a devastating Sister Abigail. Alexa Bliss then sat on Orton for the pin. The referee called the match from the outside, declaring Bliss as the winner.
Who is Randy Orton's wife, Kim Orton?
For those who don't know, Orton and Kim have been married for more than half a decade now. The couple first met during a live show at Poughkeepsie, New York, in 2012 and married in 2015. They also have a daughter together.
Kim Orton is also the owner of her own apparel and merchandise company SLTHR as revealed by Orton on Stone Cold's podcast. As Orton pointed out, "I'm very proud of her. I'm doing my thing in the ring, she's doing her thing at home raising five kids (from Orton's previous marriage). On the side, she is also the owner of her own company, SLTHR."
ADVERTISEMENT
Article continues below this ad
As she was a member of the Orton fan club before their marriage, Kim Orton is no stranger to wrestling. To fight the evil forces of Bliss and The Fiend, Orton needs all the help he can get.
In conclusion, the fans might see Kim Orton during the weeks up to WrestleMania, even if it is not inside the ring. We are yet to see what happens to Orton on Monday Night RAW and how he recovers from the traumatizing loss.
ADVERTISEMENT
Article continues below this ad